In 10 seconds? A long-term international study has found that about 44% of all cancers can be linked to so-called modifiable risk factors. These data can give policymakers insights into what strategies will best combat cancer on a large scale.
What do you mean by "modifiable risk factors"? A wide range of things can influence whether a person gets cancer or not. Many aspects, like genetics or age, are beyond patients' and doctors' control (these are called non-modifiable risk factors). However, certain risk factors, frequently environmental or dietary (like smoking or drinking alcohol), can be intentionally modified. Researchers from around the world compiled data to determine the extent modifiable risk factors impacted global cancer burden.
---
What did they find? Tobacco use, alcohol consumption, dietary risks, air pollution and high body-mass index (BMI) were the top 5 modifiable factors associated with global cancer burden. Globally, cancers due to the accounted modifiable factors caused about 4.5 million cancer deaths (44.4% of all cancer deaths!). Of note, cancer burden due to tobacco use far exceeded any of the other risk factors, particularly among men.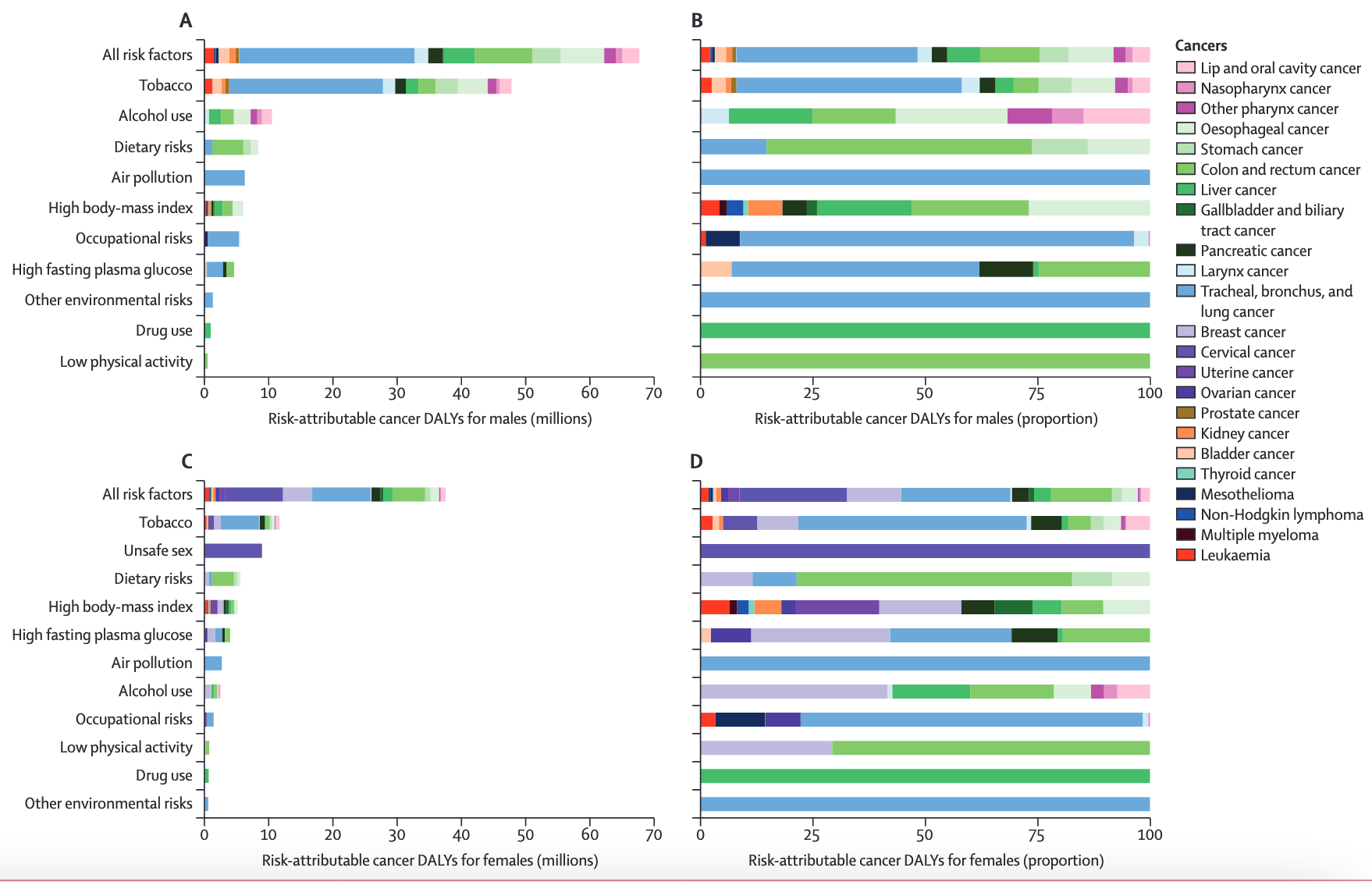 Wait. My grandpa smoked his whole life and never got cancer. So how can they really know tobacco is to blame? I hear you. Think about it this way. Failure to wear a seatbelt while driving will not result in death in the vast majority of cases. However, after a lethal car accident, based on their injuries, it is possible to discern whether the passenger would have been likely to survive had they been wearing a seatbelt. Similarly, researchers in this study used a rigorous process that relied on well-founded research to determine if all those  cancers could be attributed to modifiable risk factors.
Got it. Any other takeaways from this study? Researchers have been collecting these data since 1990 and doing analyses every decade or so. While tobacco still causes the most number of cancer deaths, the number has diminished in the last decade (2010-2019), showing that the many efforts to dissuade tobacco use (namely smoke-free policies, advertisement bans, taxation, and increased regulation) are working! On the other hand, the biggest increase in cancer deaths in the last decade are attributed to metabolic risk factors (like high BMI or high blood pressure), with an increase of about 35%. These findings support increased medical and public health focus to help populations maintain healthier metabolisms as a means to lower cancer mortality.
---
Who's to blame for cancers caused by modifiable risk factors?
It's possible that some people who read that cancers caused by 'modifiable risk factors' may put the blame on individuals themselves for developing cancer.
The researchers in this study explicitly rebuke this way of thinking, as exposure to risk factors is much more closely tied to cultural norms (ex. social pressure to use tobacco or drink alcohol) and environmental factors (air pollution or low access to fresh produce).
Instead, the researchers want these findings to encourage policy makers, philanthropists, and public health officials around the world to develop large-scale initiatives to limit the population's exposure to these well-established risk factors or incentivize healthier behaviors.
The good news is that if the appropriate funds and attention are given to this cause, a huge chunk of cancer related deaths could be avoided–without the need for a medical breakthrough!
Dr. Talia Henkle has distilled 5 papers saving you 17.5 hours of reading time.
---
The Science Integrity Check of this 3-min Science Digest was performed by Flávia Oliveira Geraldes
---
Subscribe
Join the newsletter to get the latest updates.
---