In 10 seconds? The quality of sleep and mental health disorders are interrelated, researchers have found. The results highlight the need to consider sleep as a factor when focusing on mental health, regardless of the diagnosis.
What makes this research different than prior studies? The researchers conducted a large-scale population study using data collected from wrist-worn accelerometers. These were used to determine ten different measures of sleep quality. By using this technology, they were able to collect sleep data from 89,000 participants in their natural home environment during the week, including daytime naps. Normally such studies are run in a sleep lab for a night, which limits sample size and may not reflect how one sleeps in their own bed.
So, what did the findings reveal? Sleep disturbance often happens in parallel (i.e. 'comorbid') with mental health disorders. What this study shows is how ever-present this comorbidity is, regardless of the diagnosis. And, just as mental health problems lead to sleeping difficulties, poor sleep can impact one's mental health. The good news is that sleep patterns can be improved using non-invasive techniques such as Cognitive Behavioral Therapy (CBT), a style of therapy that works to change an individual's mindset and replace problem behaviors with healthy ones, making sleep a promising target for treatment regardless of the disorder.
Did they just collect sleep data? No, the researchers also compared the genotypes (the genetic makeup) of the participants with known "polygenic risk scores" or genetic markers that indicate if the individual is at higher risk of developing a particular disorder. They also made use of self-reported sleep quality questionnaire data, which was taken before the accelerometer study. This data, as well as the accelerometer data, was taken from the UK Biobank, which is a databank with extensive data from a half-million participants in the UK.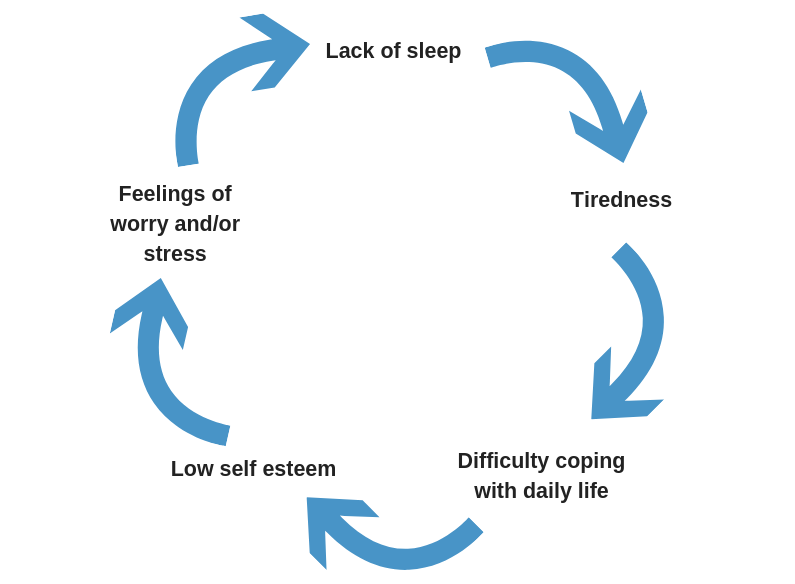 How does sleep affect mental health? As noted before, the relationship between sleep and mental health is "give and take." This relationship extends beyond those with diagnosed mental health disorders. For example, moderate to high-stress levels and depressive symptoms were associated with sleep disturbances and excessive daytime sleepiness in college students.
The primary system through which sleep affects mental health is the hypothalamic-pituitary-adrenal (HPA) axis, which maintains balance within the body, including the body's response to stress. The major pathway by which sleep affects mental health is via inflammation.
Inflammation? How come? The balance sought by the HPA axis is provided in part by the sleep cycle via the immune system. Sleep loss triggers the acute phase response of the immune system, the same response the body has to injury or infection. This response includes the release of chemicals that promote inflammation.
Does inflammation affect one's psychological state? Yes, and it can be linked to depression. How? The inflammatory response includes the release of cytokines - chemicals used by the immune system that transmit signals to other cells (yes, they play a major role in severe COVID-19 too). Researchers studied the effects of cytokines in animals, followed by the comorbidity between chronic inflammatory-related diseases and depression. They then looked at the levels of inflammation in depressed individuals and have established a connection between inflammation levels and depression. Moreover, sleep-disordered breathing has been seen at higher numbers in children that have symptoms of attention deficit hyperactivity disorder (ADHD). Treatment, however, can reduce the severity of symptoms.
What's the impact of sleep deprivation on society? In the US, the CDC declared it a 'public health problem' and, a study for the defense-linked Rand Corporation think tank found that the US economy loses $411 annually – or 2.28% of GDP – due to poor sleep. For Japan, the hit is even bigger, to the tune of 2.92% of GDP, and other major economies, such as the UK, Canada, and Germany are also impacted.
So, what can we do? We can facilitate positive change in our quality of sleep by establishing good sleep hygiene. These measures can be simple, avoiding screens before bed, or more involved, such as participating in CBT for insomnia. According to the Rand study, if sleep-deprived people managed to sleep between 6-7 hours a night, they would reduce their mortality risk from 13% to 7%, while the US economy would generate an extra $226 billion a year.
---
What about people that haven't been diagnosed with a mental health disorder?
The negative effects of poor sleep quality aren't limited to those with mental health problems.
Obstructive sleep apnea is a disorder that results in episodes where one stops breathing temporarily while sleeping.
People with this problem can experience a rise in inflammation, which may decrease their ability to think clearly.
This is only one example of how a sleep problem that affects about 22% of men and 17% of women can cause mental impairment.
Therefore, regardless of whether or not one is managing a mental health problem, sleep has a significant impact on mental health.
Jocelyn has curated 10 research papers saving you 35 hours of reading time with an evidence score of 3.66 out or 5
---
The Science Integrity Check of this 3-min Science Digest was performed by Michael Eze.
---
Subscribe
Join the newsletter to get the latest updates.
---