In 10 seconds? Maltreatment during childhood increases the risk of diagnosis with a mental health disorder after the age of 38, even without a prior history of mental health disorders, researchers have found.
What "counts" as child maltreatment? Maltreatment during childhood is quantified by counting the type and/or the number of 'adverse childhood experiences' (ACEs). Periods of physical, emotional, and sexual abuse, as well as physical and emotional neglect, are considered types of ACEs.
Listen to the audio version:
---
How do they manifest in adult life? For those who experience them, ACEs have long-term physical and mental health consequences. One meta-analysis found that maltreatment during childhood increased the risk of developing a mental health disorder. For example, all types of maltreatment in children were associated with an increased risk of anxiety disorder. Notably, children that experienced emotional abuse were three times as likely to develop an anxiety disorder than those that did not (compared to physical abuse carrying a 50 percent higher risk and neglect an 80 percent higher risk than those that did not).
If we already knew about the association, why do we need this study? Most studies on ACEs consider health outcomes through early adulthood. For example, one such study in Australia followed 3,778 mother-child pairs enrolled at childbirth and followed up on after 21 years. Other analyses look at the long-term picture without considering when mental health disorders are first diagnosed. Studies also tend to be retrospective, with individuals being asked to recall their childhood experiences long after they occur. This can lead to underestimation as child abuse reports tend to be inaccurate: the number of 'false negatives', individuals who were abused reporting that they were not, tends to be high. The reverse is usually not seen; there were not a significant number of 'false positive' reports of abuse (abuse reported when it did not happen).
What did the recent paper add to our knowledge? The study this digest focuses on looked at what outcomes were for a population that reported ACEs and were not diagnosed with a mental health disorder before the age of 38. By selecting an age range of individuals over 38, researchers were able to pull initial records for screening candidates with a prior history and then follow their mental health outcomes after the time their records were initially reviewed.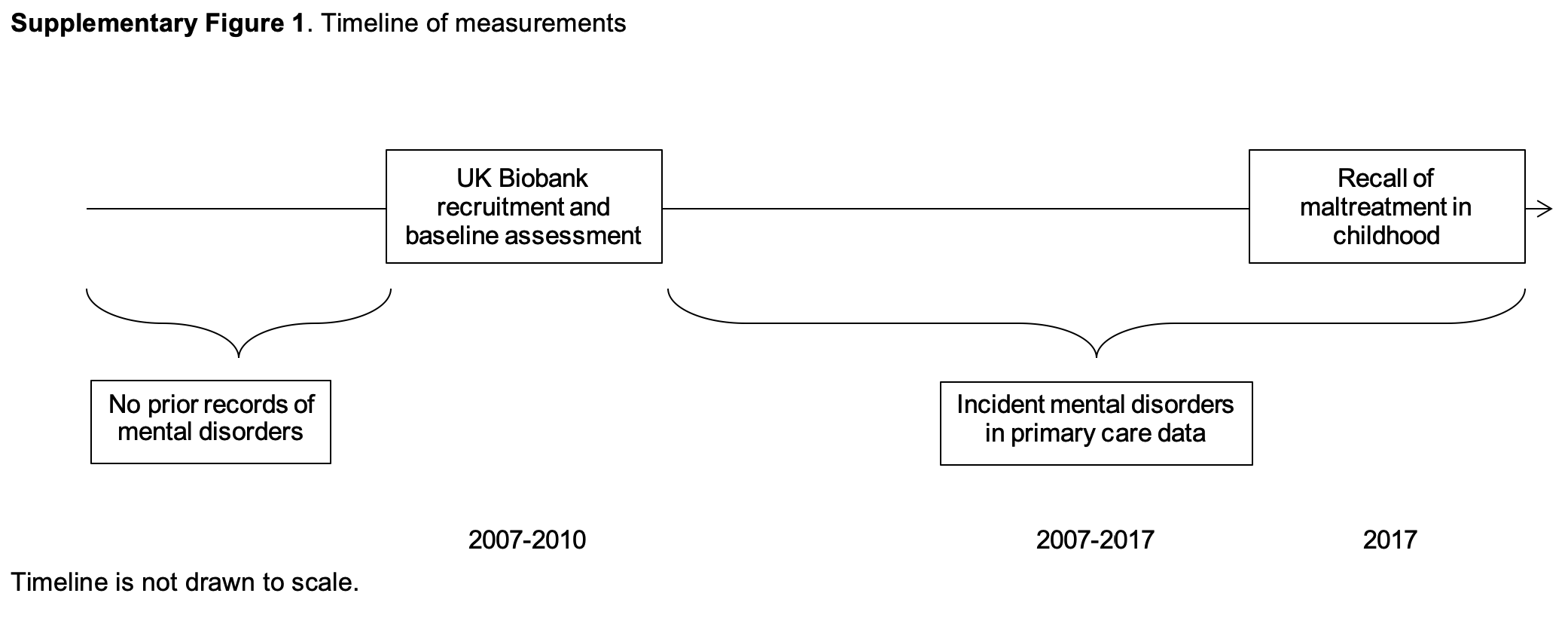 How was this study done? Researchers started with 502,493 participant records from UK Biobank, 68,338 of which had data concerning ACEs, sociodemographic information, and primary care records. The researchers removed 12,256 participant records (56,082 remained) from their main analyses because they had been diagnosed with mental health disorders before age 38. Using the remaining records, researchers followed the mental health outcomes of populations with 1, 2, or 3+ ACEs reported to those with no ACEs reported over time, noting when an initial diagnosis was made.
What does this study tell us about those first diagnosed after 38? Over 30% of individuals reported having at least 1 ACE, with over 4% of those individuals having experienced 3+ ACEs. In their analyses, the researchers accounted for differences that may come about based on demographic factors such as race and gender. They found the association was 'dose-dependent', or increased depending on the number of ACEs. Individuals without ACEs reported were used as a baseline for comparison. Those with 1 ACE were almost 30% more likely, with 2 ACEs over 50% more likely, and with 3+ ACEs almost twice as likely to be diagnosed with a mental health disorder than those that experienced 0 ACEs. When compared to those that did not experience any ACEs.
How big of a problem is this? What can be done? It is estimated a total of $134 billion is spent annually in Europe and the United States due to ACE-associated anxiety and depression.  Research indicates that having access to an adult they trust may help children become more resilient to the negative mental health outcomes associated with ACEs. This implies that providing children more opportunities to create such relationships through social programs may have a positive impact long into adulthood.
Can adult victims of abuse be helped? Strong relationships may be important to establish and/or maintain as adults as a means of mitigating the long-term effects of ACEs. The importance of social relationships is highlighted by the strong correlation between social isolation and binge drinking seen with an initial diagnosis after age 38, though this relationship may be reversed (the disorder may result in social isolation rather than vica versa). Regardless, giving adults more opportunities for social interaction, particularly in a world that seems to push us toward insular lives, may help those who experienced ACEs avoid mental health problems bubbling up later in life.
What next in the study of the association between ACEs and mental health disorders? Moving forward, more studies such as this one need to be done using a more diverse population. The UK Biobank does not provide a "representative sample" of the population. This is not only because the UK population is non-representative of the world population. It is also the result of "health volunteer" bias–the tendency of volunteers in epidemiological studies to generally be healthier than the population they are purported to represent. For example, the UK Biobank participants were less likely to be obese, smoke, and reported fewer health conditions. Additionally, as noted by the researchers, the measures of social behavior provided by the data were limited. The types of social interactions may have an effect and a lack of social isolation may be the result of a mental health issue rather than the reverse.
---
Psychology: Where what sounds like a synonym can mean something totally different
Often in psychology, terms we may use interchangeably take on their own specific meanings.
For example, adverse childhood experience sounds a lot like childhood adversity. However, childhood adversity is a much broader term that covers everything from bullying to extreme poverty and beyond.
Adverse childhood experiences are a subset of childhood adversity and were limited to "psychological, physical, or sexual abuse; violence against mother; or living with household members who were substance abusers, mentally ill or suicidal, or ever imprisoned" by the initial study that introduced the term but has been expanded upon by other studies.
Trauma is also different, but related to, childhood adversity, as it is a possible (not guaranteed) outcome of childhood adversity. Whether or not trauma is an outcome depends on factors such as the event itself as well as factors specific to the individual and their environment.
Jocelyn has curated 11 papers saving you 38.5 hours of reading time.
---
The Science Integrity Check of this 3-min Science Digest was performed by Dr. Ángel V. Jiménez
---
Subscribe
Join the newsletter to get the latest updates.
---