In 10 seconds? Some 'faulty' embryos that are normally discarded in IVF can self-correct in the womb and result in healthy pregnancies. So-called 'aneuploid embryos' are flagged up in a genetic test before implantation. The finding could improve women's chances of having healthy pregnancies.
So, what does the research say? According to a clinical study from April 2021, aneuploid embryos can actually result in healthy babies, suggesting the presence of an in vivo (in the womb) mechanism to eliminate aneuploidy – the abnormal chromosomal count that up to now has been a red flag stopping the implantation of such embryos in the womb. The study described 32 women who agreed to receive blastocysts (fertilized eggs that are rapidly on their way to becoming an embryo) that came up as aneuploid in PGT-A testing. A few months after the transfer, prenatal pregnancy testing revealed that all traces of aneuploidy had vanished and that embryos were now normal! The live birth rates of these mothers ultimately matched the national averages for women who received "euploid" embryos that passed the PGT-A test.
---
What is this PGT-A test you keep mentioning? The abbreviation stands for pre-implantation genetic testing for aneuploidy. This is one of the tests designed to screen out chromosomal abnormalities in embryonic cells. Why were they up to now a red flag? Because for example, an abnormal chromosome count can lead to miscarriage, Down Syndrome, or other severe conditions if the embryo is implanted or a baby is born. But it has recently become controversial. The authors of this paper argued that based on PGT-A too many viable embryos are being discarded dashing the hopes of would-be parents. However, the other camp argues that the test helps to make a sober assessment and avoid miscarriage or having babies born with defects.
How is the PGT-A test done? It is typically performed on days 5-6 after embryonic cells have started to form in the lab during in vitro fertilization and before implantation. The process involves a biopsy through which 5-10 cells are picked-up from the trophectoderm (future placenta), and tested through what is called "Comprehensive Chromosome Screening" technology. This is used to root out the presence of any chromosomal abnormalities, mainly: "aneuploidy".
I heard that the results are not straightforward? Traditionally, PGT-A is used to give either a euploid or aneuploid result. With the advent of highly sensitive platforms, a new category of result has emerged: "Mosaicism", which is defined as the presence of two or more genetically different cell lines in the same individual (some "healthy" and some which are not). Because, since 2015, more than 100 healthy live births have been reported following the transfer of mosaic embryos, a hypothesis emerged that the healthy cell lines might squeeze out the faulty ones. This would allow the embryo to self-correct – and the researchers in the current study started to suspect if the PGT-A test (making IVF cost $4000-5000 more) skewed the picture.
I guess couples desperate to get pregnant can demand the implantation of such embryos... Indeed, when women go through several IVF cycles getting bad results about their embryos, it is emotionally, physically, and… financially taxing. Some aspiring parents producing only a small number of embryos might start thinking of taking a bet and ask for the implantation of 'faulty' ones. But it has been proven that transferring embryos with mosaic-aneuploid results can have risks. Reproductive specialists are guided by the principle of Procreative Beneficence – an ethical obligation to help produce the best possible children – therefore have been reluctant to agree to such requests, which creates an ethical dilemma.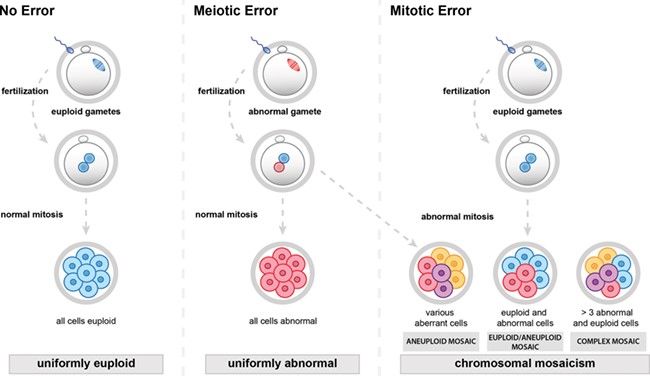 So, what is usually done with these mosaic embryos? Mosaic embryos are classified and prioritized for transfer based on the percentage of abnormal cells they have. Low-level (20–50%), high-level (50–80%), monosomy or trisomy, partial or whole chromosome involved, particular chromosome, and the number of chromosomes included. Nevertheless, this classification is not 'evidence-based' as stated by the American Society for Reproductive Medicine.
So, what next? Implant aneuploid embryos? Not so fast… first we have to study the self-correction mechanism (more on this below). However, there might be an argument to drop the PGT-A test, so that the great number of good embryos that right now are getting discarded can be used to improve women's chances for a successful pregnancy.
---
How can abnormal cell lines self-correct resulting in healthy babies?
Firstly, it is important to understand that a mosaic result from a single biopsy may not represent the true genetic composition of the inner cell mass (the future fetus).
Secondly, it has been shown – although in a study done in mice only –, that a mosaic embryo can undergo self-correction, by progressively eliminating its aneuploid cells through an apoptosis-autophagy (programmed cell death cleaning out unwanted cells and cleaning out of damaged cells) mechanism that occurs after the blastocyst stage.
In the current study, the researchers found that the abnormal cells were pushed out of the part of the embryo that would become the fetus, into the placenta.
Indeed, according to experts, recent evidence suggests that embryos with mosaic results are "not irrevocable barriers to live births".
Ralph has distilled 8 research papers, saving you 28 hours of reading time.
---
The Science Integrity Check of this 3-min Science Digest was performed by Dr. Mónica Faut.
---
Subscribe
Join the newsletter to get the latest updates.
---