In 10 seconds? Scientists are refreshing T cells that live inside tumors to treat skin cancer. This approach might help patients who have no other treatment options left.
'Refreshing' T cells—what's that? I thought you might ask. Let's start with some background. Remember, T cells are immune cells that can kill cancerous cells. However, tumors employ a bunch of sneaky tricks to prevent T cells from working correctly. New cancer treatments called immune checkpoint inhibitors help bolster T cells to kill tumors but they aren't a silver bullet. Although checkpoint inhibitors have dramatically improved treatment outcomes for many patients with advanced-stage skin cancer, still 40-65% of the rest of these patients fail to respond to these treatments. Recent studies employing a 'cellular therapy' have shown promising results in skin cancer patients who aren't helped by checkpoint inhibitors.
And what exactly is cellular therapy? In cellular therapies, a patient's own cells are used to treat a disease. In this case, scientists are using T cells that come from patients' tumors. They reasoned that T cells inside tumors are likely to be there because they are trying to take out the tumor, but they aren't successful because they are dazed and confused from the toxic tumor microenvironment (AKA the cellular habitat inside tumors that differs from the rest of the body).
Got it. So how does T cell refreshing work? How can we give T cells a renewed focus? In this approach, scientists remove some T cells from a tumor biopsy (remember, there are a bunch of immune cells inside tumors!), rejuvenate and expand them (AKA make them multiply) in a laboratory, and then infuse them back into a patient. Essentially giving the T cells a rejuvenating spa treatment so they are refreshed at the molecular level, and ready to tackle cancer!
Isn't this called CAR-T cell treatment? Nope, that's different. CAR-T cell treatment is another type of cellular cancer therapy where T cells are taken from the blood (versus the tumor) and engineered to tackle cancer (not just expanded). The refreshing method we are talking about here is called Tumor Infiltrating Lymphocyte, or TIL, therapy. From a patient experience, however, it's similar. Patients need to have their T cells collected, undergo an intensive chemotherapy regimen, and then receive the infusion of the cellular treatment about 2-3 weeks afterward.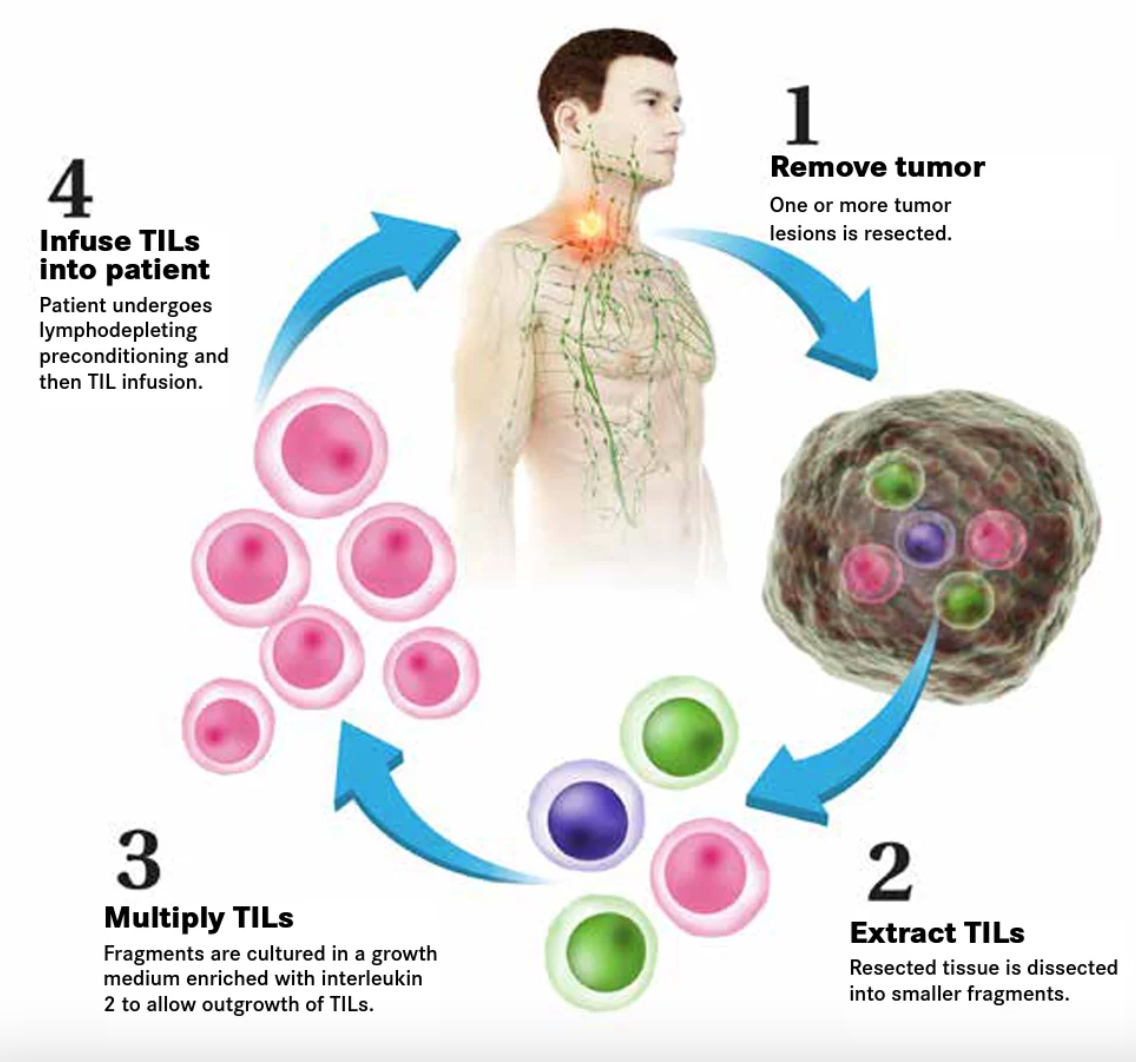 OK, and how well does TIL treatment work? Results are promising so far! In a Phase 2 clinical trial of patients of advanced-stage melanoma patients who had exhausted all other treatment options, TIL treatment helped shrink tumors in 36% of patients! A larger Phase 3 clinical trial is underway and has already reported that TIL therapy increased progression-free survival, which is a term used to describe when cancer does not get worse after treatment, more effectively than checkpoint blockade by several months (7.2 months vs. 3.1 months respectively).
Pretty cool, but still not a cure, right? Right, not exactly. But remember these cancers are the hardest to treat, so extended survival is certainly a welcome outcome. Still, we must await the final results of this clinical trial to really know if TIL therapy can produce meaningful and durable cancer responses.
---
The mystery of 'bystander' T cells
Each T cell in our bodies has a specific target it's destined to take out. It makes sense that T cells in tumors would be specific for fighting tumors, but when scientists checked this out they found that the majority of T cells inside tumors are specific for non-tumor targets–like viruses (they call these bystander T cells)!
Scientists aren't sure whether bystander T cells play an important role in anti-tumor immunity or if they end up there by mistake. Hopefully continued study of TIL treatments, which broadly expand T cells despite their specificity, will help solve this mystery!
Dr. Talia Henkle has distilled 2 research papers, saving your 7 hours of reading time
---
The Science Integrity Check of this 3-min Science Digest was performed by Dr. Jacquelyn Bedsaul.
---
Subscribe
Join the newsletter to get the latest updates.
---