In 10 seconds? We have a protein called p53 in our bodies, which, when inactivated, is one of the most well-known ways for cancer to form. In a surprising twist, scientists found that continuous activation of p53 can cause cancer as well, adding a complex layer to our understanding of cancer biology.
Wait. What the heck is p53? In a previous digest, I described p53 as the VP of DNA quality control. When unwanted mutations occur in our DNA, it's p53's job to sound the alarm and signal the cell to self-destruct. This prevents that cell from accumulating more mutations and turning cancerous (that's why it's nicknamed the Guardian of the Genome). But even this guardian can get 'injured', and when p53 is irreparably deactivated (usually by mutations), it makes it much easier for cancer to form.
And we care about this because? Well, cancer's ability to defy cell death is considered one of cancer's hallmark properties, with deactivated p53 as the poster child for this cancerous feature. P53's important role in tumor biology, which has been confirmed by numerous scientific studies, is drilled into any student who studies cell biology and has not been in question among scientific leaders.
I hear you. But what about these new findings? Some scientists were studying the role of continuously activated p53 in mice predisposed to liver cancer. Intuitively, one would think that these mice would have less severe cancer, but to their surprise, the opposite occurred! The mice with this sustained p53 activity had more tumors than mice with the normal activity of p53!
Betrayal! Did they figure out why this happened? Yes. It turns out that uncontrolled p53 activation can cause excessive inflammation which promotes cancer. Long-term inflammation in the liver is well-known to cause cancer (particularly among those with Hepatitis C Virus), but until this study, p53 was not implicated in that process.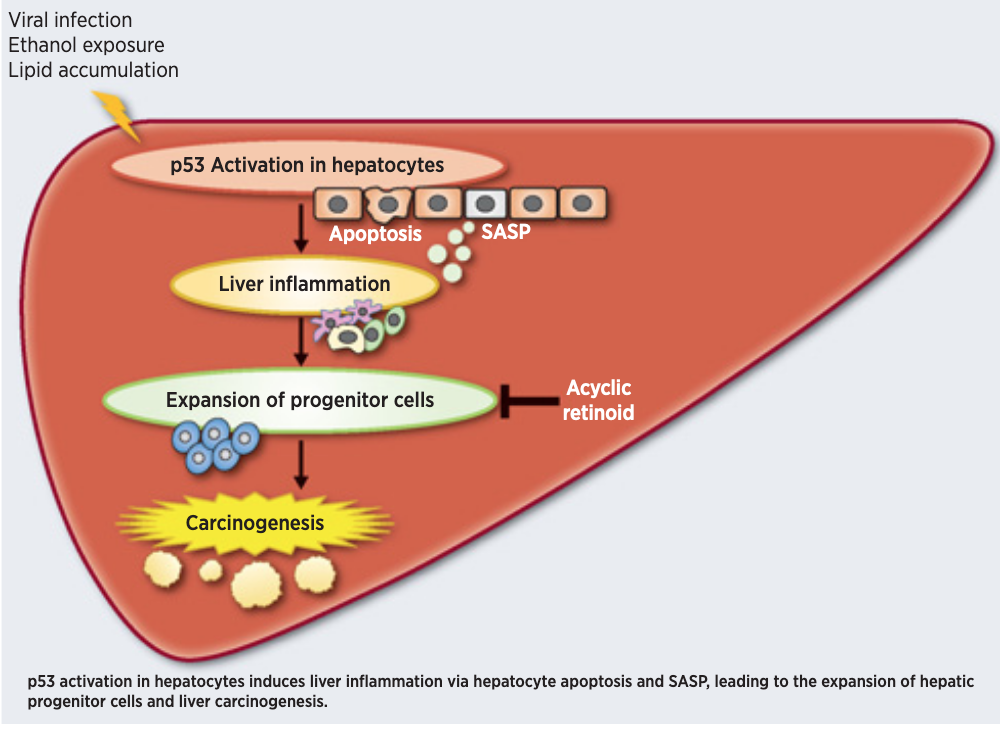 I'd say it's a fun fact except I know someone with liver cancer… so how does this information help patients? Mainly, scientists have been working on ways of restoring the function of deactivated p53 as a cancer treatment (restoring its capacity to monitor our DNA for mutations and implode the cells that do mutate). These new findings will encourage those scientists to ensure their p53-targeted treatments keep p53 at healthy levels so that these therapies are as safe and effective as possible! On the other side of the coin, this study could prompt the development of new cancer treatment methods that tame p53 activation to prevent liver cancer.
---
Why is it called p53… any relation to Herbie, the little VW with the number 53 on it?
Haha! Old movies are great but don't skip your walk in the fresh air. No, no relation. When p53 was discovered in 1979, scientists didn't know what it was or what it did, so they described it based on its molecular weight (essentially its size, which was its only distinguishing feature at the time).

This weight is 53kDa (kilodaltons–the standardized unit for weighing proteins). So, the 53kDa protein was named p53.
Funnily enough, with more accurate technologies it is now known that p53 actually only weighs 43.7kDa! But I guess p43.7 just doesn't have the same ring to it.

Dr. Talia Henkle has distilled 4 papers saving you 14 hours of reading time.
---
The Science Integrity Check of this 3-min Science Digest was performed by Dr. Jacquelyn Bedsaul.
---
Subscribe
Join the newsletter to get the latest updates.
---