In 10 seconds? A new study suggests men infected with COVID-19 may experience poor fertility outcomes but these can be prevented by vaccination.
What's in the study? Researchers analyzed the impact of COVID-19 infection on the sperm count and testicular damage in an animal model using hamsters. After four days of infection, sperm count was significantly reduced in all infected Syrian hamsters compared to non-infected. Interestingly, researchers noted ongoing changes in male fertility long after clearance of the virus from the lungs, with a significant reduction in size and weight of testicles and sperm count 3 months after infection.
But this was in an animal study, are there any other studies to support these results? A meta-analysis (based on the results of 24 different research studies) found that male reproductive health is vulnerable to the virus with reports of COVID-19 mRNA identified in the semen of infected males where low testosterone levels were observed. In a separate study, men who recovered from a moderate infection had a significantly lower concentration of sperm compared to mildly infected and non-infected men. However, scientists did conclude that the numbers were still in the normal range despite the difference.
How does a respiratory virus affect reproductive health? Inflammation resulting from a COVID-19 infection can cause fluctuations in hormonal levels, impacting male fertility. Inflammatory molecules produced by the body after a COVID-19 infection can also cause damage to the testicles and testosterone production. It is interesting to note that the ACE2 receptors utilized by the virus for entry into human cells are also present in large numbers in the testis and play an important role in maintaining male reproductive health. Hence, the novel coronavirus can impact male fertility in direct or indirect ways.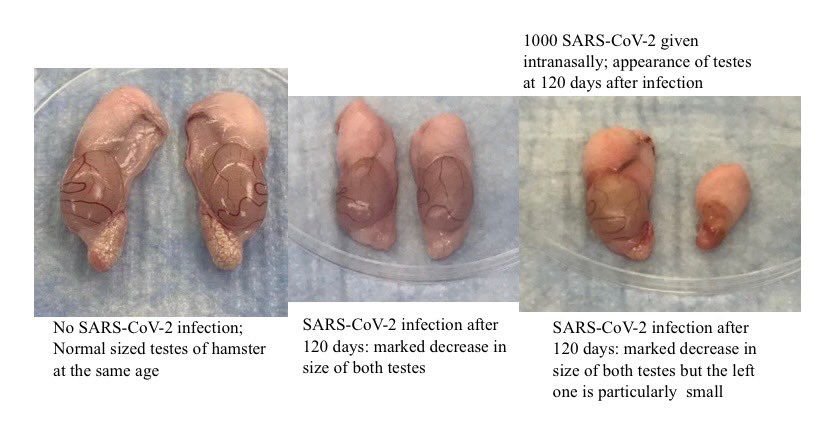 Can vaccination protect male fertility? According to a currently limited number of studies, yes. In the above-mentioned study, one group of hamsters was vaccinated two weeks before being infected by SARS-CoV-2. This group showed no signs of testicular damage, indicating protection by the vaccine. The mRNA vaccines themselves have no harm on male fertility so far, as sperm count was found to be within normal range and increased slightly after two vaccine doses compared to men who were not vaccinated. Similarly, unvaccinated men have higher chances of developing inflammation of the testis compared to vaccinated men (0.083% in unvaccinated men compared to 0.051% in vaccinated).
Lastly, can the virus be sexually transmitted? No, although COVID-19 can cause some damage to male fertility, reports so far indicate that this is not a sexually transmitted disease. Although ACE2 receptors are highly expressed in the male reproductive system, they lack certain biological molecules and this prevents the virus from entering the sperm for viral transmission.
---
Psychological stress and male fertility
It is no doubt that the COVID-19 pandemic has caused elevated stress in everyone's life, with reports of increased depression and anxiety globally.
These stressors can result in an imbalance in the chemical and biological reactions in our body which can also affect male fertility.
The stress experienced by men can cause changes in the hormones regulated by the hypothalamus in the brain. A series of biological pathways lead to the hormones acting on cells (Leydig cells) that secrete testosterone and changes in hormone levels due to stress can affect testosterone levels produced by the cells.
The mechanisms relating to stress and male fertility are complex and studies so far are limited to animal models but stress as a factor impacting fertility should not be ignored.
Santhni has distilled 9 research papers saving you 31.5 hours of reading time with an evidence score of  4.00 out of 5.00
---
The Science Integrity Check of this 3-min Science Digest was performed by Michael Eze.
---
Subscribe
Join the newsletter to get the latest updates.
---