Sparrow is a digital, D2C subscription startup redefining trusted information. We make science accessible, by translating the evidence on critical issues like COVID-19 and climate change to make it available and understandable to everyone. Our aim is to fill the gap between journalism (not trusted) and science journals (not accessible).
In 10 seconds? Sparrow transforms scientific journals into easy-to-understand, bitesize summaries, on the issues that matter - like "Cliff notes for scientific topics". We have a library of 300+ easily understandable summaries sourced from over 50,000 scientific journals.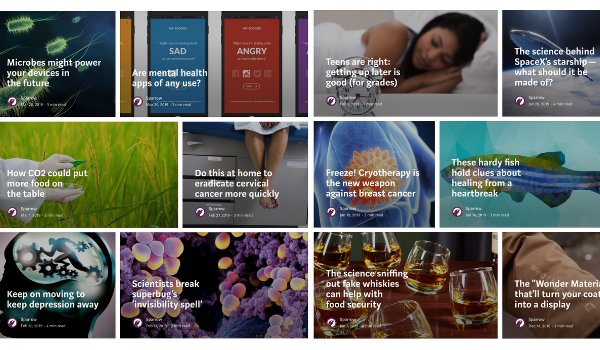 Why does it matter? Trust in our current sources of information is at a historic low while the demand for dependable evidence-based content on topics like COVID-19 has never been higher. Yet, scientific journals - universally recognised as being the most authoritative information source - are only available to 3% of us. Sparrho's mission is to connect the curious public with the latest science that empowers them to make informed decisions, making a positive impact on the world.
That makes sense. But what exactly do users get? Sparrow is a freemium subscription-based service, with free evidence-based summaries delivered in your inbox and a premium tier ($19/month) offering unlimited access to our 250+ library that can be streamed online or through our upcoming mobile app. We currently add 5 new summaries every week (which will scale as we grow) on key topics our users have told us are important to them, summarized in a format that makes sense for non-technical audiences (like the one you're reading now!) with links back to the evidence.  
Well... How do you do it? Our content production system is backed by scientific experts trained to curate & summarize scientific research and verified by our inhouse content team before being published on our platform. Behind the platform, an early-phase AI system aggregates and curates tens of millions of research articles to assist our experts in knowing what to summarize.
How big can this model get? Big! Our research has identified a significant market opportunity. The science journal market is already worth $10 billion, despite targeting a niche audience. By making this content accessible to mass market segments, we see huge potential for growth. Delivering to the US first , where the total addressable market is 19% of the adult population (47 million categorized as the curious public), recent analysis has shown that 50% are interested in science (24 million as our serviceable available market). Similar to companies like Headspace, we envisage powerful B2C branding and initial revenue will fuel future enterprise revenue through a B2C2B model.
Are you raising funds? Yes, we are looking at raising funds to support the growth of our B2C freemium subscribers.
How will you utilise these funds? The majority of the funds will be used to grow our stellar team through content, marketing & product hires. We will strengthen our IP with the scale up of our audience, content library and production engine through our proven customer acquisition model and our know-how (including the optimization of our AI algorithm). As part of this transformational journey, we will be investing in our brand to be recognised as a global source of trust (e.g. "Stamp of Truth"), enabling us to empower consumers and businesses by making science accessible.
---
Curated by Dr Vivian Chan
Sparrho co-founder and CEO, former VC investor with a Structural Biology PhD from The University of Cambridge. She currently sits on the UK Department for Digital, Culture, Media and Sport's Digital Economy Advisory Group. Named by The Guardian as one of the 10 People Under 35 Changing the World in 2019 and in MIT Technology Review's '35 Innovators Under 35' in 2017. Passionate about changing the world through science, a pianist, and keen Jazz swing dancer.