In 10 seconds? Scientists have discovered a way that could help convert methane into methanol, reducing the levels of the potent greenhouse gas in the atmosphere. The discovery identifies an enzyme 'living 'in bacteria that is crucial in the process of turning methane into a useful product.
What's the breakthrough? Scientists have known for a while that certain bacteria 'eat' methane and convert it into methanol but could not crack the enigma of this process. As methane is a major driver of climate change and levels in the atmosphere have been increasing for years, the knowledge would be invaluable to us to ramp up methane conversion on an industrial scale. In this study, the scientists identified an enzyme called particulate methane monooxygenase (pMMO) that breaks the strong bond in methane getting us one step closer the be able to produce clean fuel from methane.
---
Is methane the news bad guy, I thought CO2 was the real problem? When we talk about climate change we mention carbon dioxide a lot, but the atmospheric warming potential of methane can be 28 to 36 times greater. Methane is the second most abundant greenhouse gas and humans contribute to emissions through agriculture, landfill operations, wastewater, coal, and oil and gas plants. Agriculture is the top contributor, most of all through livestock and rice paddies. Farmlands cover about 50% of the Earth's land surface and continue to grow as we try to meet the needs of an increasing global population. So, by identifying these sources we can look for opportunities, such as harnessing bacteria to reduce increasing methane emissions. (Read more about methane in this Digest)
That's great but, why wasn't this done sooner? The enzyme that researcher have discovered, lives in the cell membrane of the bacteria which made it very challenging to study. This is because to get to it they had to remove or break down the membrane which can only be done using harsh detergents. However, these detergents ruin the enzyme which meant that once extracted, the scientists were unable to learn much from it. The researchers in this study came up with a novel way by using a particle called a nanodisc, which is made from lipids found within the bacterial membrane. It mimics the enzyme's natural environment. Once the enzyme was encapsulated within this nanodisc, the researchers were able to study its enzymatic activity, discovering its usefulness in breaking the bonds in methane molecules.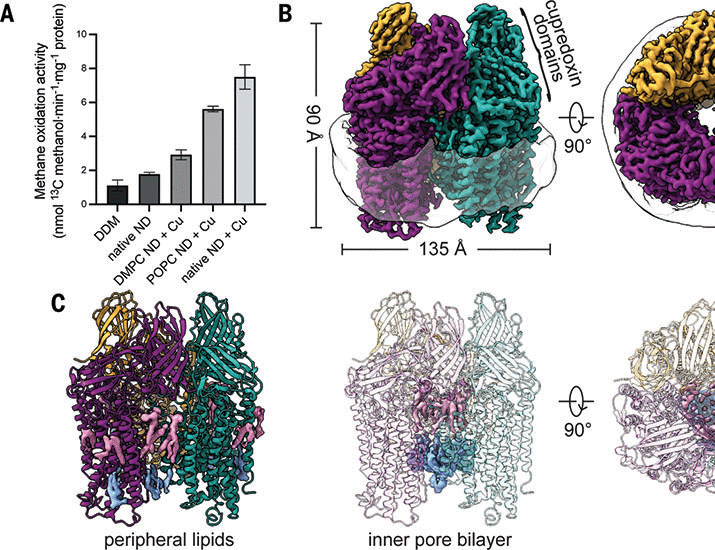 What are the benefits of this discovery? The scientists have unlocked a mystery that has been puzzling them for decades. This finding could make it possible to use this enzyme in biotechnological applications to help harvest methane and clean up some of the human activities contributing to climate change and reduce emissions. For example, this technology could help clean up oil pollution or convert methane that has been emitted from fracking sites. The resulting methanol fuel is a biofuel that has a range of applications. It can be used to produce everyday products such as carpets and paints, and has shown promising potential as fuel for cars and trucks.
What's next? While understanding that the role that pMMO in the breakdown of methanol has been a breakthrough for reducing methane emissions, there are other questions that will need to be addressed. These are: how the methane gets to the active site of the enzyme and how the methanol is released. Answering these questions will help the researchers to understand more about how the enzyme works and how it can be used in methane mitigation technologies.
---
Surprise! We've long been using enzymes in everyday life
In fact, we use over 400 enzymes for industrial purposes for everything from food and beverage processing to making household cleaning products and textiles. For example, we use the enzyme Rennin for the coagulation of milk to make cheese.
Enzymes are also used in the diagnosis and the treatment of various illnesses and diseases.
There are around 1300 different enzymes found in a human cell and they are involved in thousands of different processes within the human body which presents endless opportunities for research into their use in medical science.
Dr. Lindy Whitehouse has distilled 8 research papers, saving you 28 hours of reading time.
---
The Science Integrity Check of this 3-min Science Digest was performed by Dr. ASM Mainul Hasan.
---
Subscribe
Join the newsletter to get the latest updates.
---