In 10 seconds? Clinical trial results provide the latest data on new cancer treatment options but are usually riddled with cryptic terminology. In this Cancer 101 digest, we distill the most common terms used to assess clinical trial outcomes.
OK. Let's start from the beginning. What's a clinical trial? Clinical trials are studies done in patients (versus in laboratory cells or animals) to assess how defined interventions (usually: treatments) impact human health outcomes. Clinical trials are grouped into 4 phases (sometimes 5) with random subgroups (Yes. Researchers are neurotic, but that's why they're good at what they do!).
Listen to the audio version:
---
What do the 'phases' mean? Generally, Phase 1 clinical trials occur when a new treatment is tested in patients for the first time. Phase 1 clinical trials carefully assess the safety of a new treatment by using a small number of patients and a low dose of the drug. If a drug is shown to be safe for patients and seems to work as expected it may make it to the next step. Phase 2 trials are researchers' first opportunity to see how well a new treatment works in patients and are frequently conducted in cancer patients who have no other treatment options left.
What's next? Phase 3 trials typically include many more patients and are more specific than Phase 2 trials (for example stage 3 melanoma cancer patients with X mutation). If a new treatment performs well here, it paves the way for its use to be approved by a regulatory agency (like the FDA in the US or the EMA in Europe) for clinical use (AKA doctors around the country can prescribe the drug to patients). Lastly, Phase 4 trials are performed to learn more about treatments that are already approved for clinical use. These are sometimes called "post-marketing surveillance studies" because they may monitor for side effects (some of which can be very rare – showing up in only a few of thousands of patients) after a drug becomes available to patients outside a clinical trial.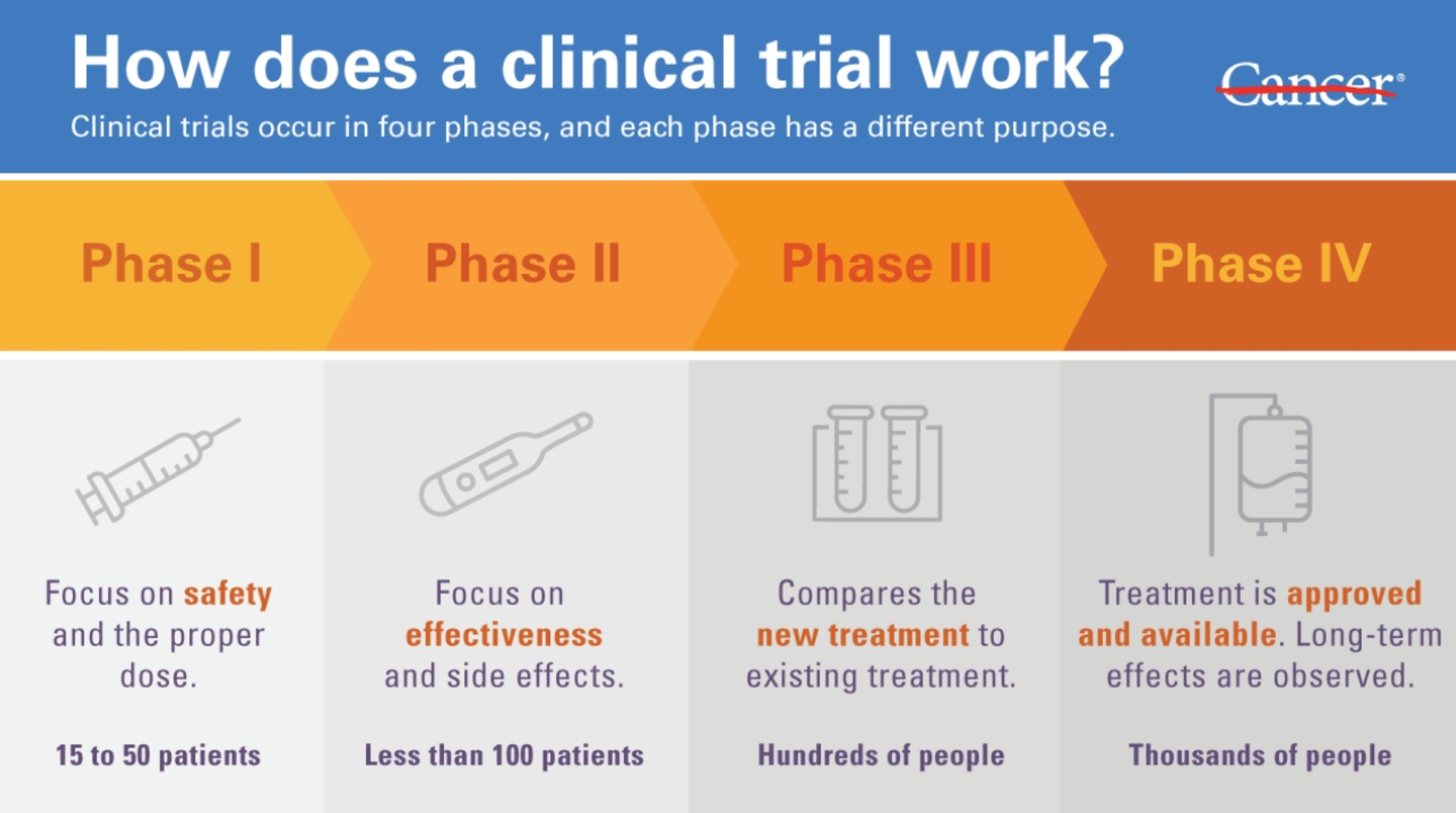 Got it. Let's get to the outcomes. Right away. Before a clinical trial starts, the researchers define what health outcomes they will use to measure success–these are called the primary (most important) and secondary endpoints. For cancer treatments, clinical trials usually assess 1) how well the treatment shrinks cancer 2) how the treatment impacts patient survival or 3) how the treatment impacts patients' quality of life. Ideally, the treatment would improve all three of those metrics, but that is frequently not the case.
So what terms were you talking about? Let's start with terms referring to how well treatments shrink tumors. A 'partial response' means a tumor has shrunk but didn't go away. A 'complete response' means that a tumor has gone away completely. Of note, sometimes in patients with multiple tumors, treatments will specifically target one tumor and they may measure a 'complete response' of the targeted tumor even if the other tumors don't go away. Lastly, 'overall response rate' refers to the sum of partial and complete responses in a trial. For example, if 75 out of 100 patients had a partial response and 10 of the 100 had a complete response, the overall response rate would be 75+10 out of 100= 85%.
OK, what terms talk about survival outcomes? Just because a tumor goes away, it doesn't mean that it will stay away. When a cancer comes back this is called 'cancer recurrence'. Additionally, if a tumor grows or more tumors develop, this is called 'disease progression'. To that point, survival outcomes frequently measure 'disease-free survival', which measures the amount of time that a person remains cancer free after treatment, or 'progression-free survival', which measures the amount of time it takes for cancer to progress. Lastly, 'overall survival', refers to the amount of time a patient survives after treatment, cancer-free or not. This is typically the ideal endpoint for cancer trials, although it is not always feasible because it normally takes a very long time (at least a few years; generally 5) to follow up the patients on the trial.
What about quality of life? While treatments may be able to extend a cancer patient's life, they may be accompanied by nasty side effects which may negatively impact the patient's quality of life (Think: physical well-being and general capacity to enjoy life). When side effects are significant, clinical trials may include 'quality of life' endpoints. These are important because many patients may prefer to forgo treatment options that extend their survival if their quality of life is negatively impacted.
---
What endpoint is most important?
Like everything in cancer, it's complicated. With so many types of cancers with vastly different survival outcomes, each endpoint discussed here may inform the new best treatment option for patients with a specific type of cancer. That being said, it's important to be aware of the nuances of each endpoint before getting excited about a new treatment.
Complete response results, when patients are cancer-free, may be considered the most powerful but only when they are accompanied by a high probability of long-lasting disease-free survival. That means the complete response results need to be accompanied by long-lasting "recurrence-free survival" and "overall survival", and a high quality of life.
This is why it is slowly becoming unacceptable to run oncology trials without some kind of measure of how the quality of life of patients is affected – usually through "patient-reported outcomes".
Dr. Talia Henkle has distilled 2 papers saving you 7hours of reading time.
---
The Science Integrity Check of this 3-min Science Digest was performed by Flávia Oliveira Geraldes
---
Subscribe
Join the newsletter to get the latest updates.
---