In 10 seconds? We have yet more evidence how parents – in this case, expectant mothers – can affect the long-term health of their children if they stick to a low-quality diet.
Why are we talking about it? Asthma is the most common childhood chronic health condition. Our research team has uncovered a link between consuming pro-inflammatory foods during pregnancy and the likelihood of children developing asthma.
What exactly did you find out? Kids of mums who ate the wrong kind of food during the term had a 21% chance of developing asthma by the age of 10, according to our research. Optimising the maternal diet, therefore could help reduce childhood asthma risk.
Seriously? Don't mums have enough to think of? Well, yes, but numerous human and animal studies suggest that early life events including maternal nutrition can affect kids' long-term health. So, mums need to pay attention and helped to be able to follow a diet that is both beneficial to them and their future children! One piece of advice is about avoiding fast food during pregnancy as it increased asthma risk. In science-speak we are talking about 'in utero programming' or the Developmental Origins of Health and Diseases.
And how do we link kids' asthma to mother's diet? The nutrition the foetus receives in the womb can affect how its airways or immune system develop. While individual maternal dietary factors have been associated with childhood asthma risk, few studies have probed the link between maternal diet quality and potential inflammation. Focusing on the whole diet allows researchers to uncover the interplay between foods and nutrients that can drive asthma risk in children. Researchers for example, have discovered that the Medierranean diet was found to be protective for persistent wheeze and atopic wheeze.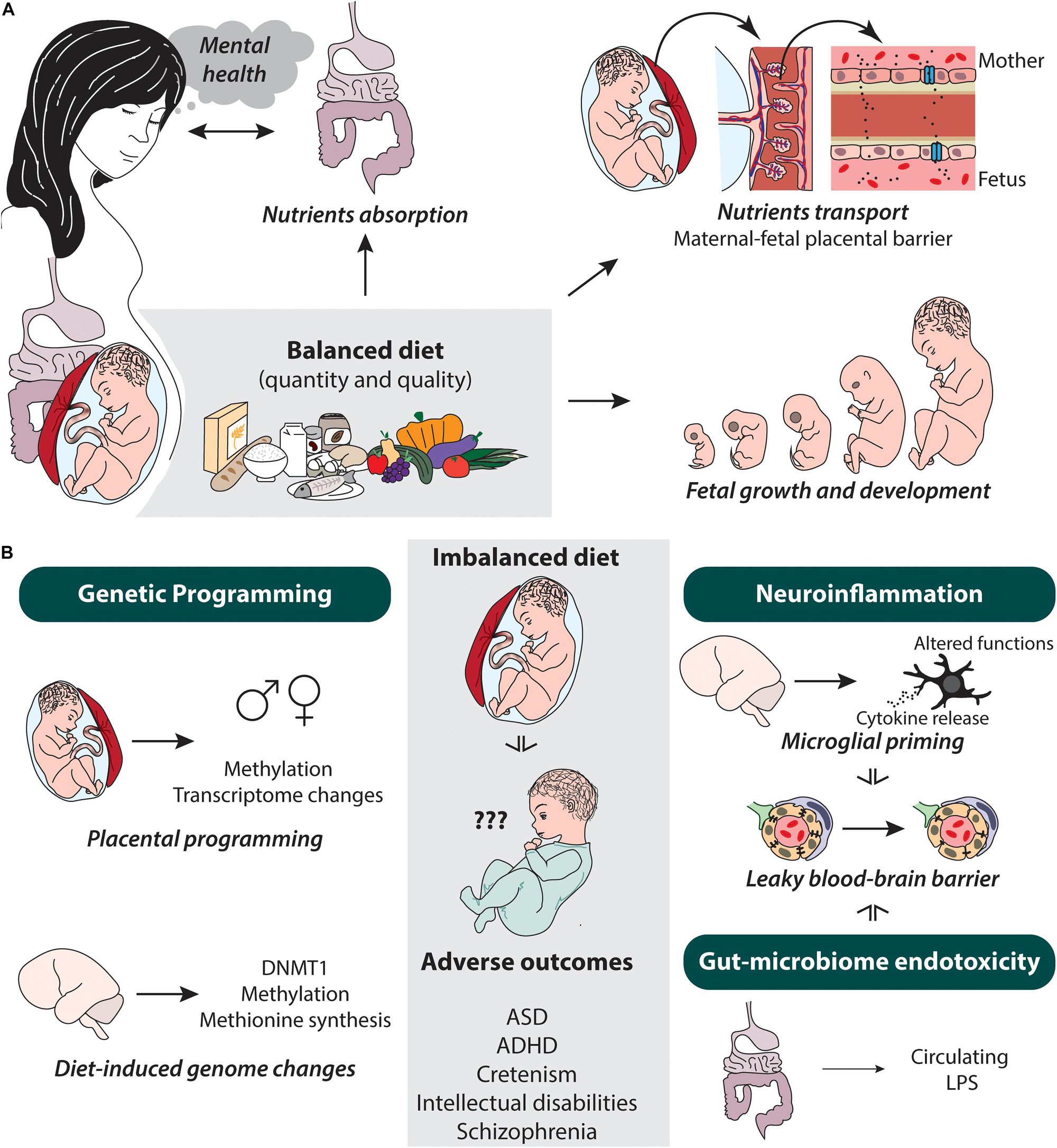 And why are we talking about inflammation? Well, asthma is a long-term inflammatory disease with varying degrees of severity. Sufferers experience attacks because their airways in their lungs get inflamed and narrow. This results in shortness of breath, coughing and wheezing. For children, it is the most common chronic health condition. In the USA alone, the annual asthma cost – due to sick days, expenses and mortality - was estimated at $81.9 billion in 2013.
How did you do your study? We recruited about 1000 mother-child pairs in Ireland to investigate the relationship between maternal diet and offspring asthma risk. We assessed the diet quality using the 2015 Healthy Eating Index. The inflammatory potential of the foods was assessed using the Dietary Inflammatory Index, a detailed, literature-based method to quantify dietary inflammatory potential. The children were then followed up over a 10-year period and data on doctor-diagnosed asthma were obtained. Other studies have found that mothers with higher intake of vitamin D, E and zinc had lowered the odds of their children wheezing. One caveat: the nutrients were not associated with lower incidence of asthma or other atopic conditions.
What can we do with the results? The knowledge we gained can be used to recommend the optimal pregnancy diet for the best outcome for the child's health and to reduce the risk of asthma. A randomised controlled trial would confirm our results and the link between low-quality diet and childhood asthma. Nonetheless, following a high quality, anti-inflammatory diet during part of the pregnancy can offer other benefits for the long-term health of children.
---
Good and bad choices for pregnant mothers
Seed oils and cheaper eggs have been on the bad food watch list for a while for the supposed pro-inflammatory qualities of the omega-6 fats that they contain.
Recent studies have suggested against cutting out omega-6 and eat more omega-3-rich food. So, more oily fish, only a handful of nuts and less food fried in seed oils.
And as to eggs, they only contribute to 1% of our daily omega-6 intake.
Additionally, an anti-inflammatory diet is rich in fruits, vegetables, lean protein and whole grains.
A pro-inflammatory one contains more processed food and red meat and alcohol.Some studies, however, suggest to cut out a strict anti-inflammatory diet in the third semester to keep a special blood vessel in the baby's heart open. In any case, consult your doctor before making changes to your diet.
Ling-Wei Chen distilled 6 research papers 21 hours of reading time.
---
Subscribe
Join the newsletter to get the latest updates.
---