In 10 seconds? A bacterium called Helicobacter pylori (affectionately; H. pylori) can be a cause of stomach cancer. But the good news is, specific antibiotics and nutritional factors may prevent these cancers from forming.
What's the story? Today, we expand our knowledge about infectious agents that can cause cancer. A bacterium called H. pylori is behind most types of stomach cancer. Haven't heard of it? Well, you should! Because stomach cancer is the second leading cause of cancer death in the US (after lung cancer). Since most cases (80%) are only caught at an advanced stage, the 5-year survival rate of these cancers is only about 14%.
How do you catch this bacterium? Chances are that you already have it! It's estimated that 50% of people worldwide become infected with H. pylori as infants, but only a tiny percentage actually develop cancer (less than 1%). Beyond H. pylori infection, researchers have been able to tie increased risk to environmental and nutritional factors. For instance, tobacco use, high salt consumption, and consumption of processed meats have been linked to an increased risk of gastric cancer.
How does H. pylori cause cancer anyway? Around the world, there are many strains of H. pylori, and some have certain properties that make them more dangerous. For instance, some strains of H. pylori have a protein called Cytotoxic-associated gene (AKA CagA) that has a lot of pro-cancer properties–like increasing cell proliferation and reducing cell death. Additionally, it's believed that long-lasting inflammation from the infection damages stomach cells and can cause mutations in the DNA that may help kickstart the cancer formation.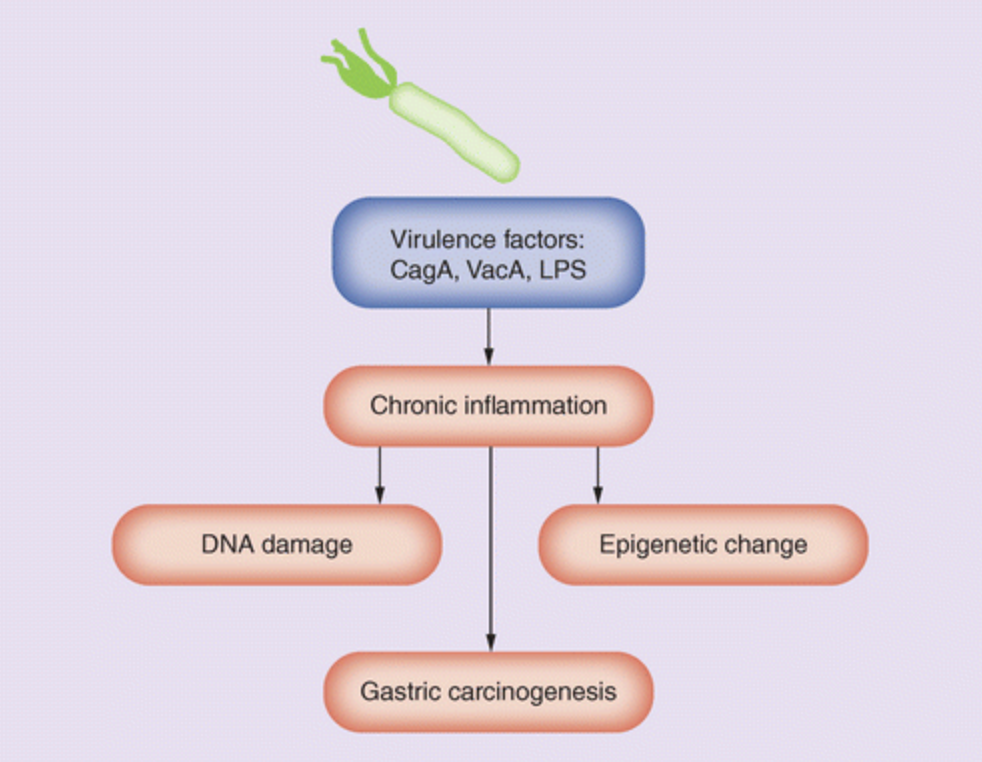 Can these cancers be prevented? Well, progress is being made. In 1999, Japan and South Korea implemented national gastric cancer screening programs, which were able to catch cancers earlier and slash gastric cancer mortality in half! However, programs like these are yet to be implemented in the US and Europe.
OK. Any other preventative measure I should know about? Yes! A study of 3,365 patients who received an H. pylori-killing antibiotic showed that they had a decreased risk of gastric cancer compared with those who had not received the antibiotic, although more than half of the participants had unknowingly re-caught H. pylori since. Whether the temporary absence of H. pylori was the key to success or if the antibiotics reshaped the gut microbiota in such a way that made the stomach more resistant to stomach cancer has yet to be understood. But most experts agree that these data aren't strong enough to merit widespread testing and treatment.
So, is there anything I should do? Here, I'll just offer you the best (yet most generic) health advice. Eat healthily! Beyond eating less salt and processed meats, research shows that eating fresh fruits and vegetables decreases your risk for gastric cancer.  Another important thing to do is not to ignore any symptoms. Repeated heartburn, nausea, stomach pain, vomiting or other digestive issues should prompt a visit to your doctor sooner rather than later. Luckily, unlike early-onset colorectal cancer rates, gastric cancer rates have been decreasing in high-income countries.
---
It's not science without a paradox…
While H. pylori increases the risk of 'non-cardia gastric cancers' (cardia not being a typo but the top region of the stomach… and the name referring to its closeness to the heart), shockingly it can reduce the risk for a type of stomach cancers that are mainly caused by gastric reflux.
This seems utterly paradoxical, but H. pylori can reduce stomach acidity, which may be the reason they can "protect" against these reflux-induced cancers.
Dr. Talia Henkle has distilled 3 research papers saving you 10.5 hours of reading time.
---
The Science Integrity Check of this 3-min Science Digest was performed by Flávia Oliveira Geraldes.
---
Subscribe
Join the newsletter to get the latest updates.
---