In 10 seconds? Rapid increases in temperature over short time periods can be used to predict future mass extinction of sea life, according to recent research. This is a reminder to keep global warming under 1.5 °C – the stated goal of the Paris Climate Accords.
What is the discovery? A recent article has used the "temperature records" stored in the fossils of tiny sea organisms, called Foraminifera to study the relationship between see temperatures and extinction events in the past. The data showed that for all of the so-called Big Five extinctions, there has been a change in temperature of at least 5.2 °C, at a rate greater than 10 °C per million years (Myr). This confirmed that temperature had a large part to play in mass extinctions. The largest of The Big Five, the Permian Extinction, happened ~250 million years ago and saw the loss of 95% of marine species and 70% of land species in 60,000 years due to rapid climate change.
What is extinction? Extinction is when all individuals of a species dies out. There is an ongoing background extinction rate. However, a mass extinction is when 75% of ALL  species go extinct over a geologically short time interval, at a much higher rate than background extinctions. There are five mass extinction events from the past known as 'The Big Five'.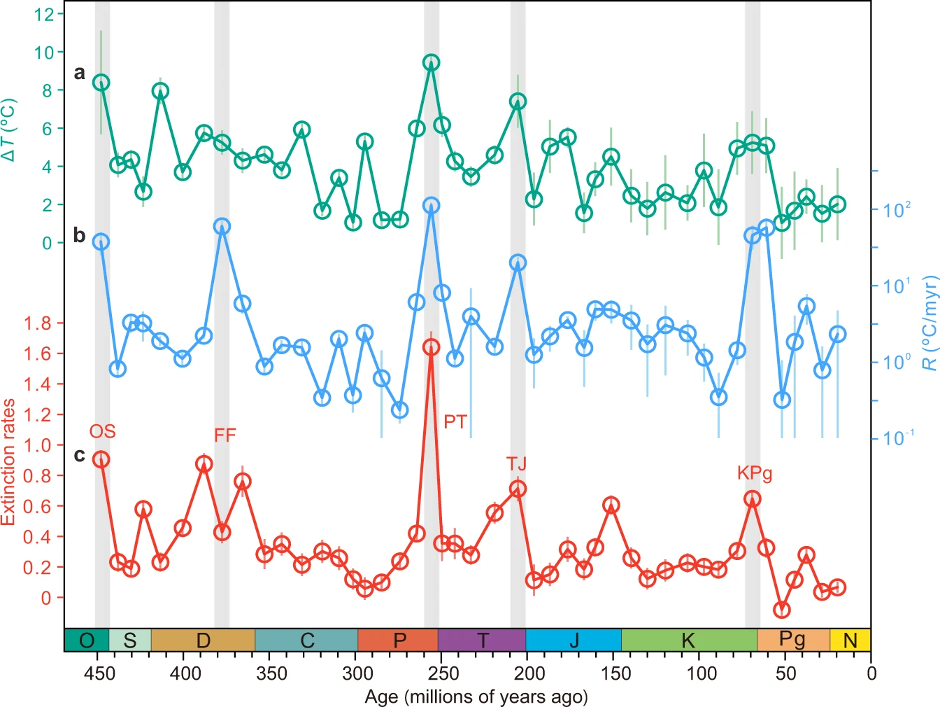 Why are past extinctions important for predicting future extinctions? Studying the causes of mass extinctions in the past can help us to determine whether we are currently under the threat of having another. Due to human induced (anthropogenic) climate change, there is an ongoing decline in biodiversity (the variety of life) and we will reach the threshold temperature change rate for mass extinction by 2100 if we do not decrease anthropogenic warming. According to the recent IPBES Global Assessment Report on Biodiversity and Ecosystem Services, around 1 million species are currently threatened with extinction, which is more than to be expected for so-called background rate extinctions.
What are the current threats? A recent study found a correlation between the warming of the North sea in past decades and the shrinking in adults sizes in several fish species – haddock, cod, whiting and saithe. Another study – analysing data going back to 150 million years – of a group of fish called Clupeiformes, has also found a link between smaller fish growing in warmer waters. The smaller size prevented the fish from finding a more suitable environment putting it under higher threat, for example from overfishing.
How did the scientists link historical sea temperatures to mass extinction? By studying the fossils of a group of ocean-dwelling single celled organisms called Foraminifera. They have shells (tests), mostly made up of calcium carbonate (calcite). These tests come in a variety of shapes and typically range from 0.1mm to 1 mm in size, which is about the same size as a grain of sand. In fact, if you've been to a sandy beach, you've probably stood on some! They have been around for over 500 million years but they are still around today.  They have a short life cycle of a few weeks and when they die, their tests sink to the sea floor and are preserved in the sediments. It is thought that up to 70% of seafloor sediments are made up of foraminifera, which means they have an exceptional fossil record.
So, what exactly Foraminifera help us measure? Just one way in which Foraminifera are helpful is that as their tests grow, the calcite records the surrounding chemical composition of the water through isotopes such as carbon (δ13C) and oxygen (δ18O). Changes in δ18O within the tests are particularly useful as they can be used to provide temperature records from the past, otherwise known as paleotemperatures. These paleotemperature records can be used to tell us a lot about past events, including extinctions.
Why do I need to be concerned about future extinction risks? We know that species loss, and therefore changes in biodiversity, has an impact on many ecosystem processes such as those providing goods and services essential for humanity: for example food, materials and medicines. It also has an impact on indirect services such as the regulation of climatic conditions suitable for humans. Because a further decrease in biodiversity levels will see a loss of these beneficial systems, we need to know when things are at risk from extinction to be able to increase urgent conservation efforts to save species from extinction and maintain biodiversity levels.
---
Did you know that Foraminifera can also tell us about past carbon dioxide levels?
Foraminifera are really quite the story tellers. As well as temperature from δ18O, we can also calculate the past levels of carbon dioxide (CO2) (a greenhouse gas that plays a major role in climate change), by measuring the boron (δ11B) isotope levels in their calcite test.
We have recently been able to reconstruct CO2 levels for the past 66 million years and the impact it has had on global temperatures and climate.
It highlights how rapidly anthropogenic CO2 is increasing and the need to reduce our CO2 emissions to prevent a sixth mass extinction.
Chloe has curated 15 research papers, with an evidence score of 4.6, saving you 52.5 hours of reading time.
---
The Science Integrity Check of this 3-min Science Digest was performed by Dr Anna Firsova.
---
Subscribe
Join the newsletter to get the latest updates.
---