In 10 seconds? Scientists have learned that a type of immune cell, called T cells, plays an important role in detecting and killing cancer cells, prompting the development of a slew of T cell-boosting cancer treatments.
What's the story? In our Immunity vs Cancer series so far, we have given you a bird's eye view of the important role the immune system plays in cancer prevention. But now it's time for a closer look at the different types of cells that make up the immune system and the specific roles they play in combating cancer. Starting with most cancer immunologists' favorite cell–the T cell.
---
What are T cells? T cells get their name from the organ where they mature–the thymus, a small organ that sits right in front of the heart.  There are a variety of different types of T cells that each play distinct roles in immunity but today we will discuss the most savage: Killer T cells (AKA cytotoxic T cells, CTLs, CD8+ T cells). Killer T cells are the type of T cell that has inspired the most progress in cancer. Why's that? Because they can recognize damaged, infected, or cancerous cells, then inject them with the cellular equivalent of poison and kill them.
That's pretty cool! If you followed our Cancer 101 series, you'll know that one of the biggest challenges for cancer researchers is to develop treatments that kill cancer cells while keeping healthy cells safe. Well, killer T cells are nature's tools that do just that! What's more, is that T cells are designed to easily travel around our bodies to perform their work—which means they have the potential to attack advanced stage cancers that have spread to other organs.
How do T cells avoid hurting healthy cells? Our immune system is the quality control system in our body and T cells are its most stringent auditors. One of the most incredible features of T cells is their remarkable 'specificity'. Suppose a cell gets zapped by UV light and develops some mutations that cause some problematic proteins to be manufactured (like mutant p53). A killer T cell can recognize the mutated protein as dangerous, and then clone itself to build an army that will kill every cell in our body that harbors that mutant protein.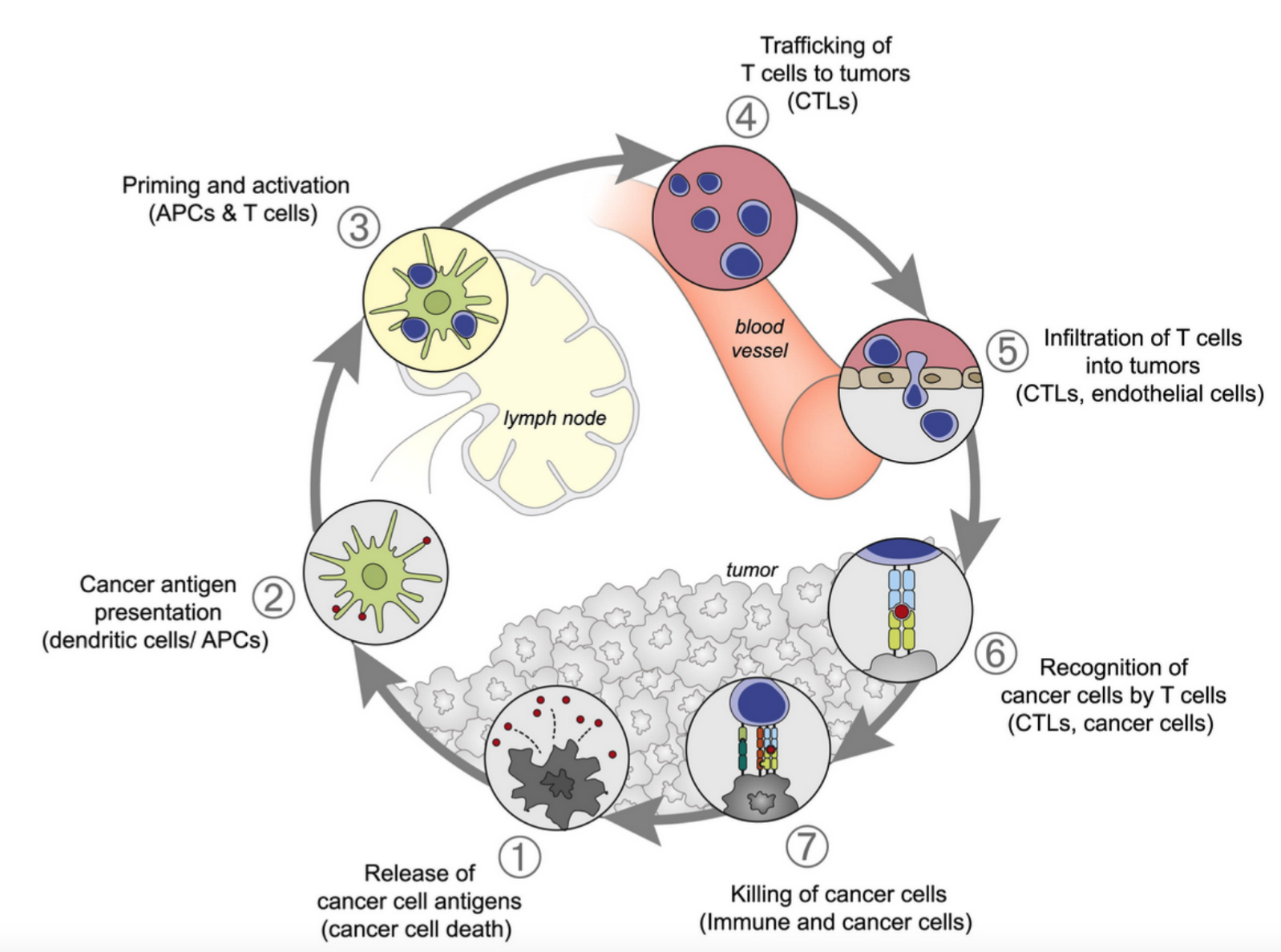 Hold up. How do T cells monitor what goes on inside our cells? Every cell in our body (with some rare exceptions) must report its ongoings by coating itself with a visible ledger of its operations. That means every product manufactured by the cell (AKA every protein) must be reported to our immune system. This process uses internal reporting hardware, called MHC, that displays samples of every protein made on the cell surface. T cells then circulate the body and scan the surfaces of each cell to make sure their operations comply with our DNA handbook.
So what goes wrong in cancer? Great question. The more we learn about T cells' ability to kill cells that start to turn cancerous, the more important the question becomes: what happens that prevents T cells from killing all types of cancer? And, what can scientists do to make T cells more potent against cancer? The pursuit to answer these questions has led to an explosion of new cancer therapies that have revolutionized cancer care. While I'll break down T cell-boosting cancer treatments in future digests, today I will share some of what we've learned about how cancer avoids immune destruction.
Yeah, how does that happen if immune cells are such hotshots? Here is how: cancer cells, with their enhanced ability to mutate, develop all sorts of sneaky tricks. For example, they mess with our cell's MHC reporting system and hide from killer T cells by substantially reducing the number of proteins they report on their cell surface. (Many viruses use a similar method to hide from killer T cells as well!). Furthermore, some cancer cells coat their surfaces with molecules, called immune checkpoints, that functionally inactivate the killer T cells' lethal function. In some cancer cases, researchers find an army of killer T cells neutralized on the borders of tumors. In the last decade, doctors have started using cancer drugs called checkpoint inhibitors that block immune checkpoints on tumors—enabling killer T cells to do their job. Checkpoint inhibitors, with names like pembrolizumab and nivolumab, have seen a lot of success in treating some types of cancer such as skin and lung cancer. Stay tuned for our next Immunity vs Cancer digest for a deeper dive into these therapies.
---
T cells: Stronger than you think
With most cancers forming in people with 'normal' immune systems, it's easy to dismiss the role that T cells play in preventing cancer. However, during my doctoral research, I had firsthand experiences that demonstrated their power.
Many cancer researchers rely on mice with tumors to test out new potential cancer treatments. To that end, my thesis work was to develop a way to grow cervical cancer in mice, so that we, and other researchers, could test out new drugs to help treat cervical cancer patients.
As is frequently the case, the first few years of research I was largely unsuccessful—even though I subjected the mice to very potent cancer-causing agents (I know…poor things). Eventually, I learned that if I got rid of all the T cells in the mice beforehand, the cancers would grow very quickly (whereas mice with T cells remained perfectly healthy)!
Using my knowledge of T cells, my colleagues and I were able to create a better mouse model for cervical cancer that will hopefully serve to develop treatments for cervical cancer patients in the future! And special S/O to all the mice who have helped cancer patients!
Dr. Talia Henkle distilled 4 papers to save you 14 hours of reading time.
---
The Science Integrity Check of this 3-min Science Digest was performed by Flávia Oliveira Geraldes
---
Subscribe
Join the newsletter to get the latest updates.
---