In 10 seconds? Black females in the US are about 40% more likely to die of breast cancer than White females. A detailed analysis points to inequitable access to healthcare as the underlying cause.
What's the story? In the US before 1980, Black women were slightly less likely to die of breast cancer than White women. In the last 40 years, however, the picture has drastically changed. While breast cancer mortality has dropped amongst both Black and White women since 1980, a stark disparity in mortality has emerged (27.7 vs. 20.0 per 100,000 women for Black and White females, respectively).  
So what's changed? Right around the 1980s, mammogram screening (a medical procedure that helps detect breast cancer earlier) and adjuvant endocrine therapy (a treatment for early-stage breast cancer) started to be widely implemented in the country. These medical interventions have played a large role in bringing down rates of mortality from breast cancer, but have failed to benefit Black women to the same extent as White women.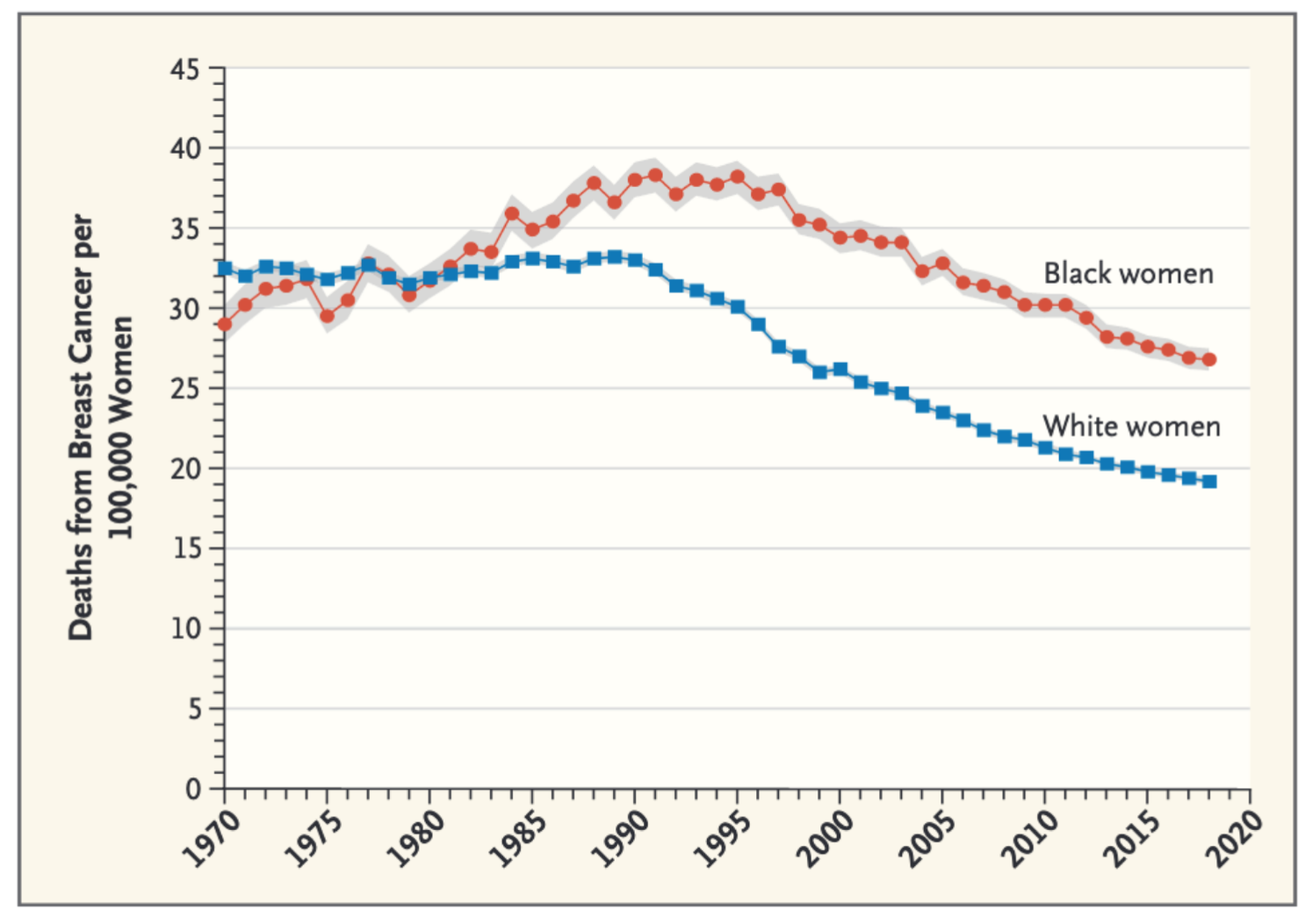 Hold up! How can you be sure that these medical interventions are the reason for the disparity? Statistics have been key to unraveling this mystery. First off, if genetic factors were largely at play, the disparity would be consistent over time, which is not the case. If environmental or lifestyle factors caused the disparity in mortality, it would be most distinguishable through comparison between women born in the same year (birth cohort analysis)–which was also not the case.
OK, I still need some explanation… The statistical analysis showed that the trend was most apparent when considering the calendar year of death–which points to the introduction of a medical innovation that broadly benefited women despite their age. In this case, since the trend emerged after the 1980s, the innovation is most likely the introduction of mammography and adjuvant endocrine therapy.
Wait–that still doesn't explain why there would be a difference based on race. Cancer prevention strategies can't help all people if they aren't equitably implemented. The main barrier, as discussed in the research article, is access to adequate medical insurance coverage for mammograms. To that point, nowadays a higher percentage of non-elderly Black women (11%) are uninsured compared to White women (8%).  These inequities in insurance access alongside other deterrents to seeking medical care, like historical harm against Black people in medical settings, may be why Black women were much less likely to receive a mammogram (and have their breast cancers diagnosed) in the 1980s than White women. Fortunately, however,  mammogram rates between the races are actually similar today.
That's still doesn't seem OK! There's more. The racial disparities in breast cancer mortality were not as apparent in states that have better access to universal healthcare–backing up the claim that inadequate access to healthcare is the main problem driving these disparities. The good news? From a scientific perspective, mammograms and breast cancer treatments are working to decrease deaths from breast cancers and screening rates these days are much more comparable among Black and White women than they used to be. It's up to our healthcare system now to take these findings and act to make sure all Americans can benefit similarly from these scientific advances.
---
Digging deeper
There are multiple types of breast cancer. Grossly, they can be grouped into Hormone receptor-positive (HR+; easier to treat) and hormone receptor-negative (HR-; harder to treat) cancers.
It turns out that Black women are currently 65% more likely to develop HR-negative cancers than White women, that's 29.3 vs. 17.7 cases per 100,000 Black vs White women, respectively from 2014 through 2018. Researchers aren't exactly sure why but suspect that social determinants of health (like socioeconomic status, education, and environment) may play a role.
Notably, although total rates of HR-negative breast cancer have been decreasing overall, White women from less affluent parts of the country have seen slower reductions than White women from wealthier parts of the country. More work still needs to be done to lend clarity to this issue. Until then, it's up to scientists and regulators to improve and approve treatments for the deadlier HR-negative cancers and ensure equitable distribution.
Dr. Talia Henkle has distilled 3 research papers, saving you 10.5 hours of reading time
---
The Science Integrity Check of this 3-min Science Digest was performed by Dr. Jacquelyn Bedsaul.
---
Subscribe
Join the newsletter to get the latest updates.
---