In 10 seconds? Climate change could force wild animals to relocate from their current habitats, into areas with high human populations. This could dramatically increase the risk of a virus jumping from its animal host to humans which could lead to more future pandemics.
What is being studied?  As the Earth's climate continues to warm many animal populations are already on the move. In a recent study, researchers at Georgetown University examined the link between the changing geographic location of 3,139 mammal species and the viruses they carry to identify potential hotspots of future viral sharing between hitherto geographically isolated species.
And this is important because… As the animals continue to move, many of them could come into close contact with human settlements which could be particularly problematic in areas where the human population is dense. This will increase the chance of zoonosis, (a fancy word for pathogen passing from an animal to humans and causing an infectious disease). In the future, more zoonosis could lead to more frequent pandemics.
But why is climate change causing animals to move? As the climate warms it is affecting all forms of life from plants and animals right down to microbial communities. As a result, the rising temperatures are causing habitats to change by altering the amount and type of vegetation found in specific areas. This, in turn, causes changes in food resources and affects access to water. These changes are forcing animals to relocate not only to beat the heat but also to meet their basic needs to survive, leading to changes in biodiversity and the emergence of new ecosystems.
Ok, so how did the researchers link this to new pandemics? The researchers developed global maps for terrestrial mammals by looking at their current habitat and ecological niches and predicting how these will change based on the climate change projections for 2070. This information was then used to model species interactions and identify which areas (predominantly in Asia and Africa) we are most likely to see interactions that will result in virus jumping from one host to another.  Surprisingly, their model suggests that virus sharing is already underway, and attempts to slow climate change may not stop future viral sharing from happening.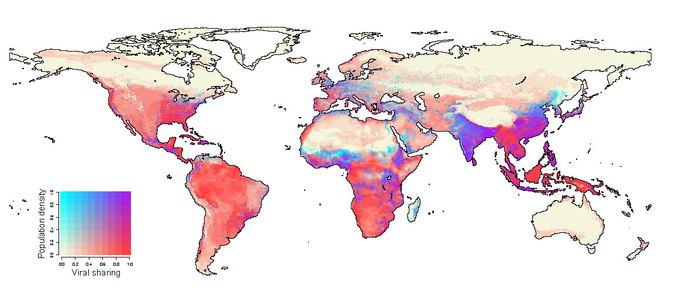 Oops. Then how do we defend ourselves? The research suggests there isn't a lot we can do to prevent this from happening as species mixing is already occurring at alarming rates. However, the results suggest we need to urgently focus on setting up viral surveillance and tracking the changes in different species distributions to stand a chance of monitoring changes in both the distribution of viruses and the hosts they are infecting. This is particularly important in tropical regions as this is where most zoonotic viruses are found and where the most rapid warming is occurring. At present, zoonotic surveillance in these areas is inadequate and many future emerging infectious diseases could already be circulating in the human population.
Is it only mammal movement that poses a threat? In a short answer no. Bats – with diverse populations in southeast Asia, and able to travel long distances – are behind the majority of cases of sharing novel viruses. Many zoonotic diseases have also been spread by birds and in some cases, this poses more of a threat as birds can travel large differences. Future research needs to examine how climate change is impacting bird migration and what potential impact this could have on the spread of diseases. Amphibians, reptiles, and marine mammals should also be investigated, not only for trying to understand the spread of viruses between animals and humans but also from a conservation point of view. This is especially true for amphibians, where infectious diseases and climate change are driving the global amphibian decline.
---
You may not know this but…
Researchers identified 13 zoonoses that are responsible for 2.2 million human deaths every year. Most of these came from livestock.
There are at least 10,000 viruses found in wild animals that could infect humans which could lead to more human deaths in the future.
Pandemics have happened repeatedly throughout history, including the Black Death that plagued Europe and Asia in the 14th Century and the Spanish Flu that spread at the end of the First World War.
Lindy has distilled 12 research papers saving you 42 hours of reading time.
---
The Science Integrity Check of this 3-min Science Digest was performed by Dr. ASM Mainul Hasan.
---
Subscribe
Join the newsletter to get the latest updates.
---