In 10 seconds? Farmers could grow almost 50% more rice and potato with a human gene added to the genome of the crops, according to a study. This is good news for millions of people whose staples are threatened by climate change.
What exactly did they discover? The research team have zoned in on a special type of RNA molecule or epitranscriptome (involved in all biochemical modifications of RNA within the cell) called RNA N -methyladenosine (m6A). They have found that it was linked to a process that can dramatically increase yields and biomass in potato and rice under field conditions.
How does the yield increase? The team showed that switching on a human gene called RNA demethylase FTO in rice and potato through genetic transformation can influence the status of m6A RNA. The presence of FTO stimulates root meristem cell proliferation (cells that produce 'unspecialised' cells that can turn into any kind of specialised cells). FTO also promotes tiller bud formation, photosynthetic efficiency and drought tolerance. All this leads to an  increase in crop yield and biomass accumulation.
Pardon the pun but how does this advance the field? More than 30 years of transgenic research have led to notable advances in engineering crops for higher yields. This discovery belongs to Epitranscriptomics, a novel field of molecular genetics studying the control division and development of cells. The m6A gene is known to regulate plant growth and physiological processes in a plant species,  Arabidopsis thaliana or thale cress. So, the scientists hypothesised that by introducing a foreign m6A demethylase, i.e., FTO from humans to rice and potato, they could pave the way for a novel method to modulate plant growth. They were right, FTO has indeed boosted biomass and yield and improved the crops' resource utilizations and defence against abiotic stresses.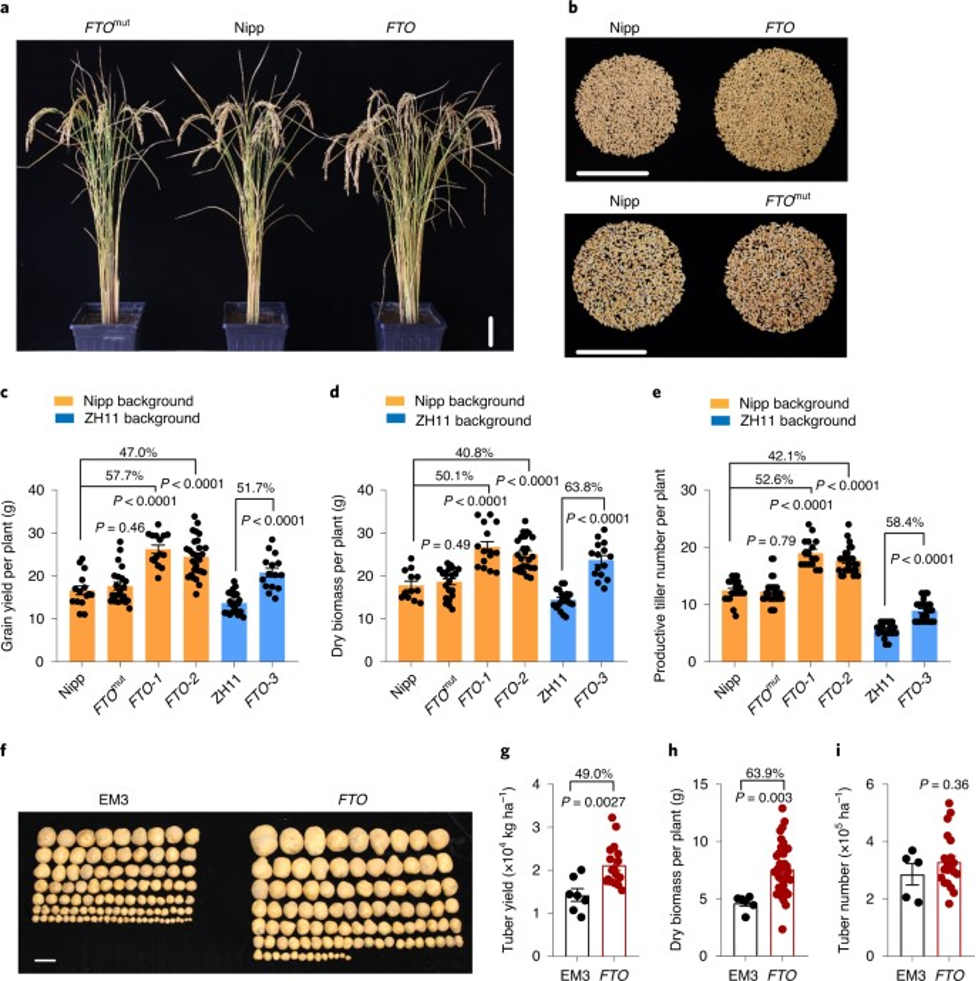 So, how does FTO affect m6A? According to the central dogma of molecular biology, the genetic information of an organism encoded in the DNA is printed into different types of RNA. Messenger RNA (mRNA) carries the genetic code to be translated into protein sequences that ultimately can affect the yield and biomass in crops. The RNA N -methyladenosine (m6A) is a type of mRNA modification that changes how RNA is processed, thereby modifying related biological processes. The human FTO, a fat, mass and obesity-associated protein is known to remove the methyl group from m6A (this is called demethylation) and thus it activates various genes involved in the modulation of cell growth and expansion.
How did they identify the role of FTO in the surge of yield and biomass and other traits? They genetically transformed rice plants with the FTO gene. Apart from the increased yield, transgenic rice plants showed a ~36% surge in photosynthetic activity (producing carbohydrates and oxygen). Through RNA sequencing, the researchers also showed that m6A molecules were notably reduced in various types of RNA species from the root and the shoots of transgenic rice and potato plants. This suggested the activation of various underlying metabolic pathways.
What next? Apart from showing a way to boost key agronomic traits such as yield and biomass, the current study (confirming findings of previous studies  about the role of FTO) has laid the foundation for further research on the role of RNA m6A in chromatin regulation and gene transcription in crops. A key point to keep in mind is the various ecological risks that are associated with genetically modified organisms (GMO).
What are those risks? The main question is whether a GMO crop would harm the natural pollinators or would have an effect when the pollen from GMO plants falls on non-GMO crops or whether it has any impact on soil microbes, birds, other animals and eventually on humans (find out more in this review paper).
And when can farmers put this finding into practice? It can take years because a lot of regulatory aspects need to be cleared.  Nevertheless, the findings from this project are going to benefit more than 3.5 billion rice and 1 billion potato consumers globally. It is likely to produce much more food within the same cultivated land area and with the same inputs, improving global food security that is threatened by climate change, water scarcity desertification, and most recently, geopolitics.
---
... but will it be safe to eat?
As GMO crops are not generated naturally, some people have concerns about their safety. However, there is no conclusive scientific evidence to date to show that a GMO crop has more negative effect on human health than non-GMO crops.
(For more information read Genetically Engineered Crops: Experiences and Prospects published by the US National Academies of Sciences, Engineering, and Medicine in 2016)
The experiments mentioned in this Digest were conducted under controlled conditions in glasshouses and fields.
If the findings would be used for mass production of rice and potato in the future, then obviously all the necessary scientific experiments would have to be performed to exclude any potential detrimental effect of FTO on the ecosystem and human health.
Mainul has curated 11 papers saving you 38.5 hours of reading time.
---
The Science Integrity Check of this 3-min Science Digest was performed by Dr Muhammad Zahid Ilhsan.
---
Subscribe
Join the newsletter to get the latest updates.
---