In 10 seconds? One reason cancer is hard to treat is its ability to mutate. In this installment of our Cancer 101 series, Sparrow's cancer expert will break down what DNA mutations are, what happens when cancer cells mutate and how this creates challenges for doctors.
What does cancer have to do with mutations? Think about it this way. In the utopia of our bodies, cancer is an unruly anarchist–a deviant that spends its life wreaking havoc by following its own disruptive  manifesto. Today, we reveal cancer's troubled origins which lead to its wayward radicalization. And it all begins with what scientists call a 'DNA mutation' (as mentioned in our first Cancer 101 Digest).
Right, I hear 'mutation' and I sense danger… Well, it all depends on context. Mutations are simply variations in our DNA– and not all of them are harmful. Most of them are neutral or even benign (think: each person has unique DNA). But it's true, before cancer develops, certain mutations must occur in specific places within the DNA of some of our cells.
Remind me what DNA does again. Think of DNA as being a comprehensive employee handbook that each cell receives, which outlines all the instructions it needs to follow to serve your body. One of the most critical aspects of our DNA handbook is its high integrity. That means as your cells divide and form new cells, (think of a wound healing or hair growing) each new cell needs a perfect copy of your DNA to ensure that it is fully indoctrinated with its mission to serve your body.
Does each copy really need to be perfect? Pretty much, yes. Your DNA's integrity is so important, that many of your genes (think of genes as chapters in the employee handbook) are dedicated to proofreading and editing your DNA to fix any mutations (i.e. copy errors)  that may occur. Following proofreading, newly minted DNA must also pass through a series of quality control measures before a cell is released to do its job. And, as TLC said, we don't want no scrubs. If the new DNA isn't up to par, the cell is programmed to automatically self-destruct. (This process has a cool Greek name, apoptosis – free munition from Sparrow in case you want to dazzle someone with science.)
So what does this have to do with cancer? Genes that assist with DNA proofreading and editing frequently become damaged before cancer develops. When something (suppose UV light) mutates one of your DNA proofreading genes (re: erasing and rewriting chapters in the DNA handbook), it initiates a dangerous cascade. Without proper proofreading in place, multiple mutations can now slip through quality control. And as cells continue to divide, more and more mutations can develop. Continued mutations can lead to cancerous cells being able to override their self-destruct programming, grow unchecked, and carry out their destructive anarchist agenda. (i.e. they have their own 'logic' but their goals clash with the goal of our other cells: to work in harmony and keep us healthy).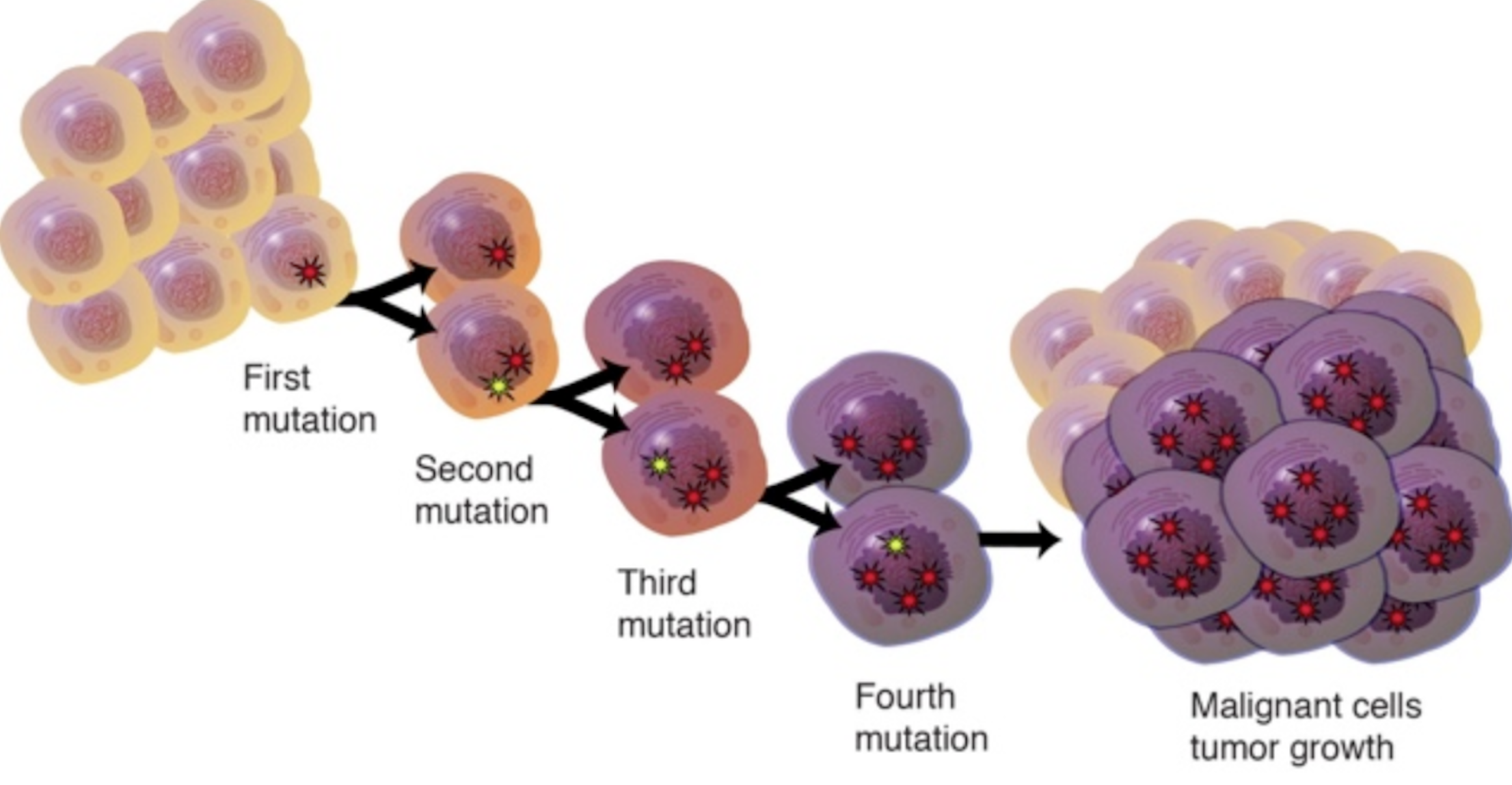 OK, so cells mutate… but surely we know how to stop it? One of the main challenges in curing cancer is finding treatments that can target cancerous cells while keeping healthy cells safe. Researchers have developed cancer drugs by targeting some of the mutant features of cancer cells. However, since cancerous cells have an enhanced ability to further mutate their DNA, they can easily shapeshift to avoid targeted treatments. That means cancer is a continuously moving target and this ability is one of the reasons why cancers can be treatment-resistant.
Can I get an example? Researchers have discovered that some breast cancer cells are dependent on the hormone estrogen to survive (Maybe HER+ breast cancer rings a bell?) There are cancer drugs that can block a cell's ability to use estrogen. In theory, cells that need estrogen to survive should die when they are treated with estrogen-blocking drugs. Cancer cells, however, with their enhanced ability to mutate, may become resistant to estrogen-blocking therapies if they generate a new mutation that allows them to overcome their dependency on estrogen. In these patients, doctors must search for a new treatment that targets some other distinct mutant feature of this newly disguised cancer, if indeed such a treatment exists. Next up in Cancer 101: we dive deeper into programmed cell death, and why it's important in cancer.
Evil geniuses can't stop and won't stop
True anarchists don't organize. Each cancer cell follows its own agenda to achieve total body domination. Once a cancer enhances its ability to mutate (by messing with the DNA proofreading process), it will continue to do so–even when a cancer cell breaks free of its original underground anarchist group (the primary tumor) and spreads to other parts of your body (i.e. metastasizes).
That's another reason why cancer is so hard to treat once it has spread. The mutant features of the original tumor may be completely different from the mutant features of the tumors at other sites in your body. This significantly complicates the task of using one drug to target and destroy all the cancer cells in your body.
Fret not. Cancer is sneaky but scientists are relentless. Check out some of our other digests that break down cancer treatments that have helped cure previously incurable cancers.
Talia distilled 8 papers to save you a reading time of 28 hours. This digest has an evidence score of 5 out of 5.
The Science Integrity Check of this 3-min Science Digest was performed by Pola Olszak
---
Subscribe
Join the newsletter to get the latest updates.
---