In 10 seconds? You may have heard about someone's cancer diagnosis being described in stages–early or advanced, or 1-4. But what does that actually mean? Today, we break down cancer's stages, and how each stage can determine the appropriate treatment strategy.
What do I need to know about cancer progression? Anyone with the slightest notion of cancer knows you want to diagnose it early. And that 'advanced stage' cancer is no feat to be accomplished, but rather something to be avoided at all costs.
So, what are the cancer stages? While cancer biology, a slew of intricate and dynamic processes, doesn't readily lend itself to discrete characterizations, describing cancer in stages is helpful for doctors to help decide on treatment strategies. Keep in mind–each type of cancer is different and has unique staging criteria, but here I'll give you the bare bones–with skin cancer (AKA melanoma) as a concrete example.
I'm all ears, let's go! OK, let's dive right in. Cancer is now generally categorized into TNM stages–standing for Tumor, Node, and Metastasis– and then is further divided into subcategories (0-4) that describe how large the tumor is and the degree to which it has spread.
What is the 'tumor' stage all about? The T group is used to describe the original tumor–the first offender (Think: that weird mole that ended up being cancerous). T1 usually indicates that the tumor is small and is happily growing in its own little enclosed niche–AKA 'early stage' cancer (For skin cancer: T1 is classified as tumors less than 1mm thick). Meanwhile, a T4 tumor (thicker than 4mm), indicates that the tumor is visibly spreading and invading deeper tissues–a sign that it is a threat to be reckoned with.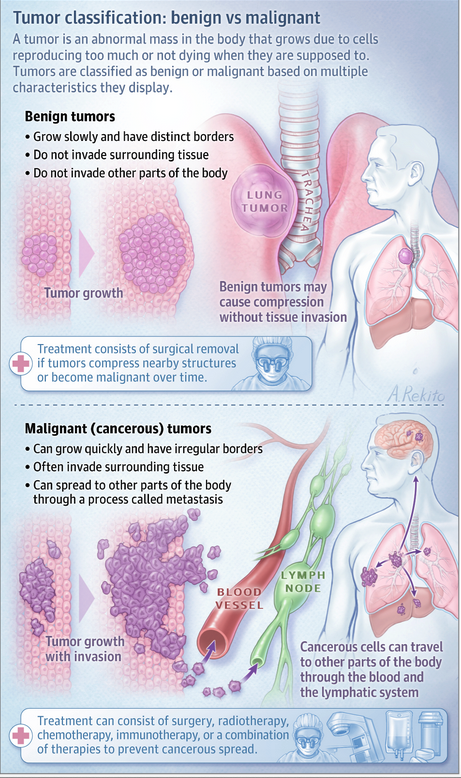 Remind me why is staging important for cancer patients? Cancer staging gives doctors a baseline for how to start treatment, and that usually means surgically removing the tumor for an early-stage cancer. And with human lives on the line, they don't want to take any risks. That's why it is best practice to remove wide margins surrounding the tumor, to account for any rogue cancer cells that may have spread without detection. The exact margin also depends on the tumor stage. For skin cancer, a T1 tumor (<1mm) guidelines recommend doctors to remove a 1cm surgical margin, while a larger T3 tumor (between 2-4mm) will be removed with a 2cm surgical margin. That's why a tiny mole removal could result in a large scar (well worth it, though, if that means chances for regrowth are slashed)!
Right. Let's move on to nodes… Lymph nodes, to be precise. To understand their importance in cancer, let's back up a step. For cancer to spread, it must hijack your body's highway system: the blood and lymph vessels. Your lymph nodes are your body's security posts that sift through everything traveling throughout your body and train immune cells if any danger is detected. That means the lymph node closest to the original tumor is the first to catch any cancerous cells traveling throughout our bodies. Unfortunately, tumor cells are often able to camp in the lymph node and use it as a base to spread to new bodily tissues. Thus, the N staging designation describes whether or not the original tumor has spread to nearby lymph nodes (N0=no spread; N1-3= increasing number of lymph nodes involved and/or size of invading nodal tumor).
So, what does that mean for patients? Cancer spreading to the lymph nodes is not a good sign, but, if caught there, cancer in lymph nodes can usually be removed or treated without serious harm to the patient. For skin cancer patients, after surgery to remove the original tumor and the cancer in the lymph node, your oncologist may also recommend treatments like radiation, chemotherapy, or other skin cancer-specific treatments.
What about the M stage? This is metastasis: when a tumor has maliciously advanced its troops and invaded peaceful territory at another body site (M0 = no metastases found; M1= metastases found). Cancer that has metastasized (AKA advanced stage cancer) is notorious for being the hardest to treat.
So what might that mean for our skin cancer patient? To treat skin cancer that has metastasized, doctors may implement a more aggressive treatment regimen with additional therapies that research has shown to work best. However, many factors go into how M stage cancer is tackled with therapy—with the patient's preferences being a large factor.
But why exactly is metastatic cancer so hard to treat? Multiple reasons! Once cancer has spread it becomes more challenging to remove surgically or treat with therapies, like radiation, that target localized areas, particularly if it has embedded itself in a vital organ. What's more, as I mentioned in a previous digest, due to cancer's enhanced ability to mutate,  tumors at distant sites often have novel features compared to the original tumors. That means that each metastasis is its own beast, and a treatment that successfully takes out one tumor may not necessarily work on one of its metastases.
---
Lymph nodes: Cancer's friend or foe?
When doctors discovered that cancer first usually spreads to the lymph nodes, it became standard practice to remove nearby lymph nodes during cancer removal surgery.
In the last several decades, however, much has been learned about the immune system's role in fighting cancer from the nearby lymph nodes.
This knowledge, along with unwanted side effects from lymph node removal (i.e. elephantitis…) has prompted this practice to be called into question and now lymph nodes are more closely examined before they are removed.
---
Dr. Talia Henkle has distilled 6 papers saving you 21 hours of reading time.
The Science Integrity Check of this 3-min Science Digest was performed by Flávia Oliveira Geraldes
---
Subscribe
Join the newsletter to get the latest updates.
---