In 10 seconds? Battling cancer is physically and emotionally draining. What's worse, is that for many Americans who have medical coverage under Medicare Part D, it can be financially draining as well.
---
What's the story? Medicare is US government health insurance that is available to Americans after they turn 65 (with certain technicalities and exceptions). Since cancer is most commonly diagnosed during the later years of life, Medicare is one of the most important cancer care payers. About 50 million Americans today rely on Medicare part D to provide them with their pharmacy prescriptions (Medicare part D specifically covers drugs filled at pharmacies). And it turns out, due to technicalities in how the system is set up today, basic cancer treatments that fall under Part D are frequently unaffordable.
Wait–really? Medical insurance coverage in the United State often seems like an ever-elusive enigma, and this scenario is no different; Medicare Part B, which covers medical care (Think: physician-assisted medications like injections and infusions) does not oblige any extensive out-of-pocket costs in about 90% of cases.  Meanwhile, if you have the misfortune of developing a type of cancer that is best treated with drugs you pick up at a pharmacy (about 50% of cancer treatments), your out-of-pocket spending can be exorbitant.
Could I get an example? Let's compare the potential treatment costs incurred by patients diagnosed with either HER-negative or HER-positive metastatic breast cancer. Both are advanced-stage breast cancers but have a biological difference in how much of a role estrogen plays in keeping the tumor 'alive'. For the patient with HER-positive cancer, the preferred treatments (trastuzumab, pertuzumab, and a taxane) are administered by a physician (AKA covered under Medicare Part B) and require limited out-of-pocket expenses for the patient.
And for the other patient? On the other hand, the preferred treatment for the patient with HER-negative are two types of pills (an aromatase inhibitor and a CDK4/6 inhibitor) that would be filled at a pharmacy and thus, would be covered under Medicare Part D. While aromatase inhibitors are now available as generics and are low-cost, one year of treatment with the most commonly used CDK4/6 inhibitor (palbociclib), will cost patients upwards of $10,000 for one year of treatment (if they don't qualify for low-income subsidies).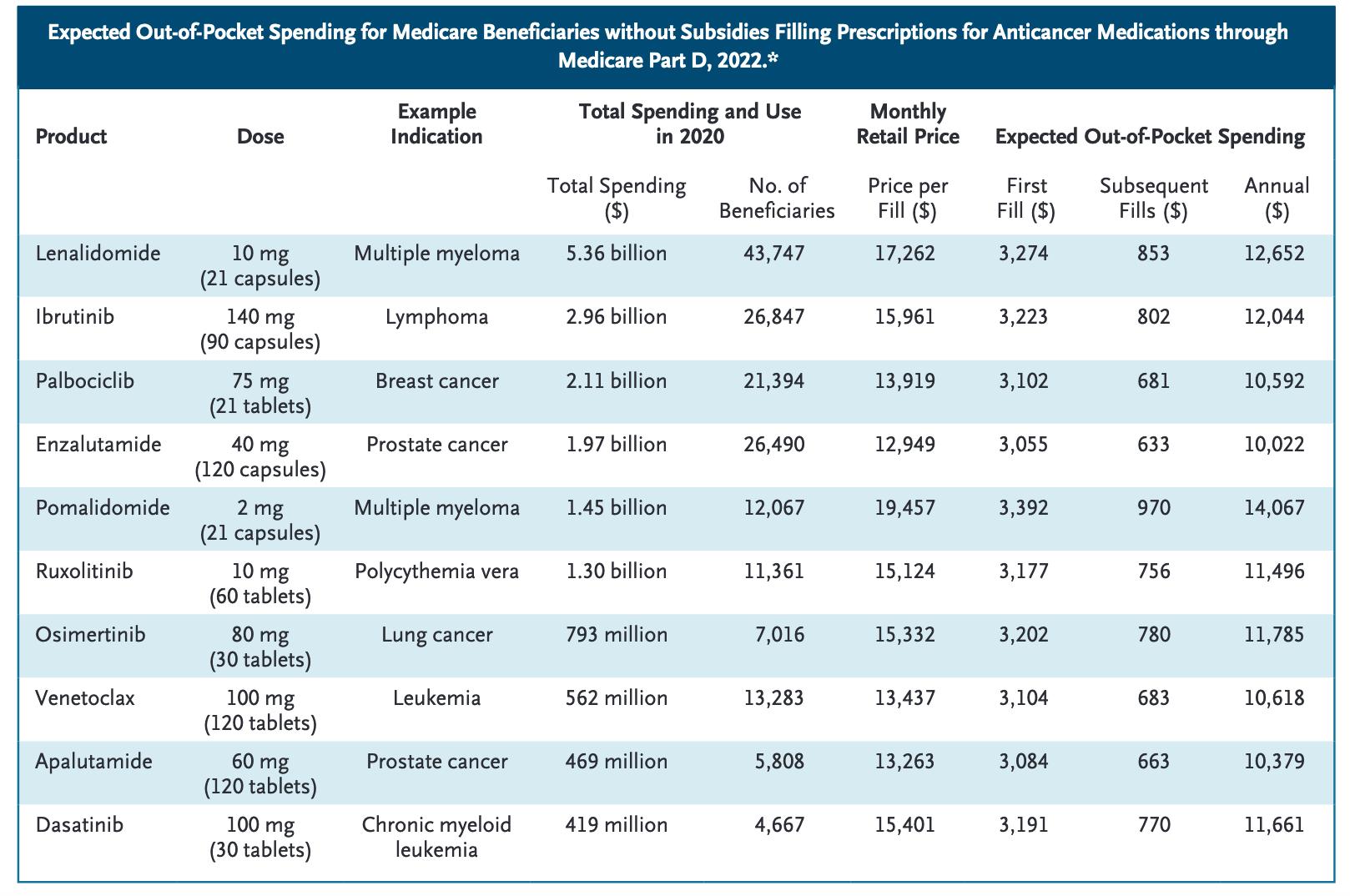 Ouch. As if cancer wasn't enough of a pain. Right? While $10K may seem like nothing compared to the price tag of some of the new million-dollar cancer treatments, we need to put it into perspective. The average income of Americans over 65 years old is about $27,000. What's more, these Americans don't qualify for low-income subsidies under Medicare unless their income is below about $18,000. That means the average older American who is diagnosed with HER-negative metastatic breast cancer and insured by Medicare Part D will likely have difficulties affording basic needs if they wish to receive standard cancer treatment. And there are countless similar scenarios where there are massive differences in out-of-pocket spending between 'similar' cancer types (despite that the cost difference has nothing to do with how likely the treatment is to work).
Is there anything that we can do about it? Well, since Medicare is government-backed, fixing this problem is in the hands of our national policymakers. There is an effort to put a $2,000 yearly out-of-pocket spending cap for drugs covered by Medicare Part D, but it is currently stalled in the Senate. Supposing this effort fails, multiple other policy solutions have been put forth. Whatever solution congress decides on, let's hope it's fast because cancer treatments don't work if you can't afford to purchase them!
---
Financial toxicity
When we think about toxicity and cancer, drug-induced side effects are likely the first thing to come to mind. But in today's world, money matters, and the high costs of cancer treatments can be a one-way ticket into financial distress, which causes stress, loss of productivity, and lower quality of life.
Researchers refer to this phenomenon as 'financial toxicity' and are beginning to study it in the context of cancer. Perhaps findings in this field can inform policy solutions to cancer-related financial toxicity just as scientists work to mitigate cancer drug toxicity!
Dr. Talia Henkle has distilled 1 research paper and 3 government documents, saving you 7 hours of reading time
---
The Science Integrity Check of this 3-min Science Digest was performed by Dr. Jacquelyn Bedsaul.
---
Subscribe
Join the newsletter to get the latest updates.
---