In 10 seconds? Lizards in warm environments are being "born old" due to the increased pressure from climate change, threatening extinction, researchers have found.
What do you mean they are being "born old"? A new study on 22 wild populations of common lizards, from the Massif Central mountains in France, has shown that juveniles are ageing quicker and being born "too old" due to alterations to their DNA. The DNA in question, the protective telomere, controls the rate of ageing, or "pace of life". In most animals, telomere length usually shortens at each cell division throughout the life cycle, naturally resulting in the death of cells, and eventually the organism itself. But, if the telomere is shorter at the beginning of the organism's life, it results in a shorter life of the organism!
Okay, but why is having a shorter telomere an issue in the long run? Shorter telomeres are resulting infaster body growth, plus earlier sexual maturation and reproduction. Initially, these observations seem like a positive result, especially when stable populations are predicted to have a high survival rate (73%). Yet, this "live fast, die young" approach is resulting in long-term trends of increased mortality risk and decreased reproduction in declining lizard populations. We are already seeing a low survival rate of just 7% beyond 1 year of age in juveniles. So, what does this mean? Well according to the study, it means there is a threshold telomere length, below which it is no longer useful for reproduction but instead becomes detrimental and increases extinction risk.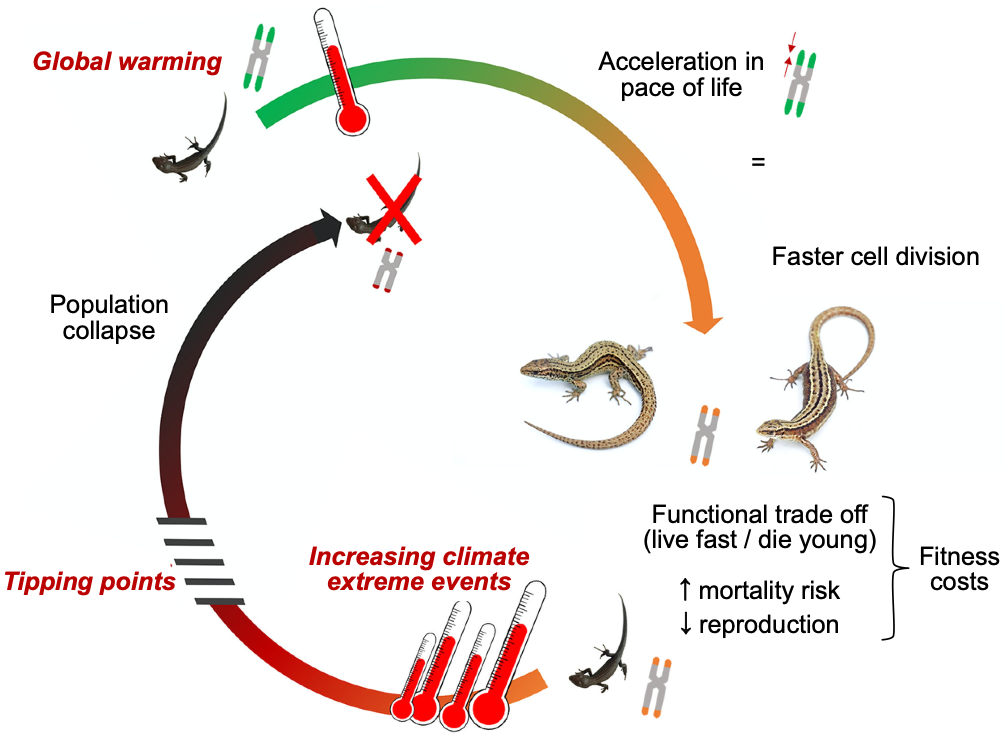 What has lizard DNA got to do with climate change? External stressors, such as temperature, diet and pollutants, can increase the rate at which telomeres shorten. According to the study, warming temperatures in France have "increased the pace of life and rate… which eventually leads to a vicious cycle through the accumulation of shorter telomeres in the population". You would expect lizards, who rely on warmth to regulate their body temperatures, to thrive in warmer temperatures, but due to these DNA alterations, it is likely to have a negative impact in the long run with a greater loss in species in the next 50 years. In fact, it is predicted that, globally, local extinctions will reach 39% with species extinctions at 20%, by 2080.
Why does it matter if we lose lizards? Declining lizard populations is just another story to add to the ever-growing list of biodiversity declines as a result of climate change. It is already suggested that we have entered the "Sixth Mass Extinction", where species extinction will exceed 75%. It is not just climate change that is resulting in population declines but also land-use changes, such as deforestation and urbanisation. This directly removes the habitats vital for species' survival. It is important to maintain biodiversity as it regulates many ecosystem processes (think food chains and climate conditions), plus provides food, material, and medicines essential for humans.
But lizard populations are declining because of changes in DNA, so can we do anything about it? Firstly, we need to reduce the impacts of climate change, according to The Paris Agreement and recommendations from the Intergovernmental Panel on Climate Change, by limiting warming to 1.5 ºC. Further to this, we need to continue studies of lizards! Direct studies of lizard populations, further DNA studies, and modelling will all advance our understanding of the complex relationships of lizards to a changing climate.
---
It's not just lizards… shortening telomeres in human DNA to treat cancer?
Scientists have found that temperature has an impact on telomeres in human DNA! One laboratory study on human cells found that telomere length shortened with increased temperatures, while another (that used yeast as a model organism) agreed with these results. This supports the view that there will be a negative impact on human (cell) life from climate-changed induced long-term increases in temperature.
The second study also states that caffeine also shortens telomere length, while alcohol lengthens it! However, this doesn't mean you should drink more alcohol and less coffee to lengthen your telomeres. In humans, telomere length is related to cell longevity (much like in lizards!) but also to disease and cancers – most cancer cells (~ 90%) elongate their telomeres to prevent the "end of cell life" problem and continue reproducing.
In fact, the idea that telomere shortening could be used to repress early-stage cancer has been around for decades and more recent developments suggest there may be a way to detect and treat cancer by targeting telomeres.
Chloe has curated 16 research papers, saving you 56 hours of reading time.
---
The Science Integrity Check of this 3-min Science Digest was performed by Dr. ASM Mainul Hasan.
---
Subscribe
Join the newsletter to get the latest updates.
---