In 10 seconds? Lymphoma patients with healthy levels of vitamin D seem to respond better to cancer treatments than those with below healthy levels. If results like these hold up in larger studies, it will mean that cancer patients will have another 'modifiable risk factor' to improve their cancer outcomes.
---
Easy with the jargon, what are modifiable risk factors? A wide range of things can influence how a person will respond to cancer treatments. Many aspects, like genetics or age, are beyond patients' and doctors' control (non-modifiable risk factors). However, certain risk factors, frequently environmental or dietary (like smoking or drinking alcohol), can be intentionally modified. Vitamin D levels can be raised through sun exposure, diet, and taking supplements. Thus, with more data that links vitamin D levels to cancer treatment, vitamin D is emerging as a modifiable risk factor in cancer.
What does vitamin D have to do with cancer? With the recent boom in immunotherapies (cancer treatments that empower the immune system to kill cancer), cancer researchers have been searching for ways to safely boost immunotherapies' cancer-killing capacities. While vitamin D is primarily known for its role in bone health, it has also been shown to play various roles in immunity. And recently, an increasing body of research is showing that healthy levels of vitamin D are associated with positive treatment outcomes among lymphoma (a category of blood cancers) patients.
What exactly have they found out? Multiple studies have pointed out that patients with certain types of lymphoma that were treated with different immunotherapies tended to fare worse if they also had vitamin D insufficiency (AKA below healthy levels of vitamin D). Most recently, an observational study showed that lymphoma patients treated with CAR-T cells (For more information, read my CAR-T digest) were more likely to have all their tumors go away if they had sufficient vs. insufficient levels of vitamin D, (76% vs. 55% had complete responses respectively). What's more, the overall survival after 2 years differed by 30%, favoring the group with healthy levels of vitamin D!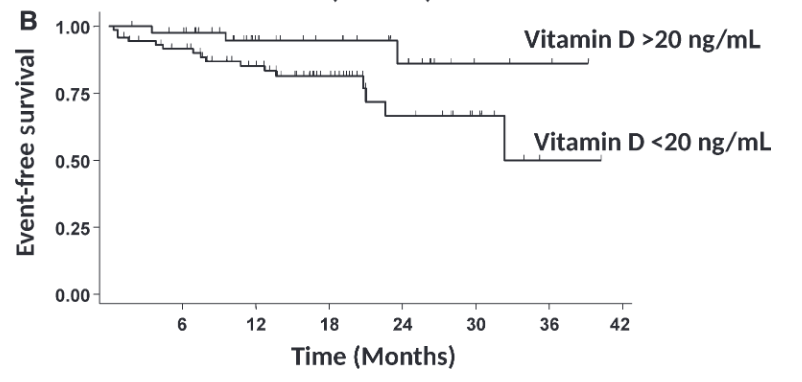 But correlation doesn't equal causation. That's absolutely right, although the data linking vitamin D and cancer are getting more convincing. Another small study in vitamin D insufficient lymphoma patients treated with immunotherapy (rituximab) showed that patients who received oral supplementation of vitamin D and reached healthy levels had improved survival outcomes compared to patients who remained vitamin D insufficient. These exciting findings are currently under further testing in a larger phase 3 clinical trial (a type of trial meant to assess how well a new treatment works in patients). If the data continue to hold up, this would reveal a potential easy, affordable, and safe way to boost the effectiveness of cancer treatments.
---
How can I ensure I have enough vitamin D?
First and foremost, if you are worried about your vitamin D levels, meet with your primary care provider and do a simple blood test to check your levels! But many everyday habits can help ensure that you're getting the amount of vitamin D your body needs to remain healthy.
Spending time in the sun can boost natural levels of vitamin D, but those who can't spend much time outside or who frequently use sunscreen (a great way to mitigate UV light exposure–another modifiable cancer risk factor!) may need to explore other options to keep their vitamin D levels in a healthy range.
You can also incorporate foods like seafood, egg yolks, and mushrooms into your diet to boost vitamin D levels. Furthermore, many vitamin D supplements are readily available at pharmacies. Experts recommend doses ranging 600-2000 IU daily if you are not getting adequate sun exposure or vitamin D rich food each day. (Although exercise caution when it comes to supplements because many are not regulated by agencies like the FDA and are not proven to be safe or effective.)
Dr. Talia Henkle has distilled 5 research papers, saving your 17.5 hours of reading time
---
The Science Integrity Check of this 3-min Science Digest was performed by Dr. Jacquelyn Bedsaul.
---
Subscribe
Join the newsletter to get the latest updates.
---