In 10 seconds? Researchers have found a gene in corn that controls the angle of the crown root, helping the plant to get more nutrients out of the soil, which is yet another step toward better food security!
What exactly did they find?  The researchers have identified a gene - get ready for a long name - Calcineurin B-like protein (CBL)-interacting serine/threonine-protein kinase 15 (CIPK15). This gene is expressed in the corn root and is responsible for regulating the angles of crown roots. The study showed that plants with steeper roots were able to gain 18% greater shoot biomass (a method used to estimate the yield of the plant) and 29% higher shoot nitrogen content. Nitrogen is a macronutrient, important for plant growth, It's a key component of chlorophyll which the plant uses to capture sunlight to manufacture carbohydrates from water and carbon dioxide during photosynthesis.
How does the discovery help? It is helping us to develop crops that need less inputs (water, fertilizer etc). How? After initial application, nitrogen from the fertilizer and water penetrates deep into the soil. So, the ideal type of corn root to absorb the nutrients must be steep, cheap and, deep - and this is what researchers are trying to achieve by studying the genome of corn.
OK, but how does it make my food cheaper? Finding a gene that controls corn crown root angle has huge implications for farmers spending huge sums on nitrogen fertilizers. Much of the fertilizer is never taken up by the plants and it seeps deeper into the soil, polluting the groundwater. Another good portion of it contributes to the production of a greenhouse gas - nitrous oxide. In Africa, corn is a major food crop but a lot of the soil is poor in nitrogen and farmers often lack funds to buy enough fertilizer. So, corn varieties with deeper roots would take up nitrogen more efficiently, reducing production costs. The USA - a major producer - would benefit both economically and environmentally while in African countries applying the discovery would reduce food insecurity.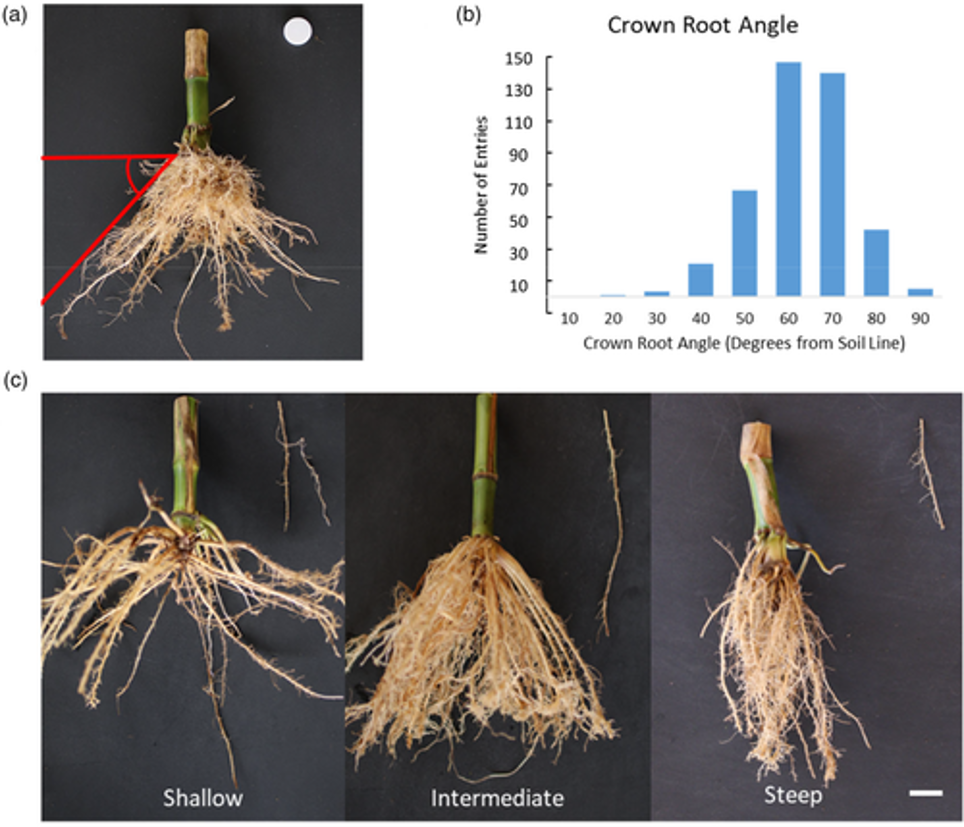 Right, give me the science about this CBL-CIPK interaction. Fine! Plants can't just migrate away from an unfriendly environment like animals. So, they have evolved dynamic processes to withstand environmental stresses. Calcium is a ubiquitous molecule that acts in most of the biological processes in plants to counter stress conditions. Calcium-binding proteins such as CBLs act as transmitters for calcium signaling in plants. Now, about the other part of the pair, CIPKs: they are targeted by calcium signals which are recognized by CBLs and their interaction plays an important role in abiotic stress tolerance in plants (tolerance to drought, extreme temperature, highly saline conditions, etc). The CBL-CIPK network also plays a vital part in responses to signals of low nitrogen availability for the plant.
How did the researchers find out the role of CIPK in nitrogen uptake? They used genome-wide association studies (GWAS) - a technique to screen for variation in the genetic codes of different plant genotypes which are similar ancestrally but differ in the trait of interest - for example, the crown root angle. This way the researchers can identify links between the trait and the underlying gene. So, for this study, the team screened 481 corn genotypes and found DNA sequence modifications in the CIPK15 gene, the one that determines root angle formation. They knocked out the CIPK15 gene to confirm the results of GWAS  which resulted in a 10° change in root angles making the roots steeper. Under low nitrogen conditions in the field, maize plants lacking the CIPK15 gene had 18% and 29% higher shoot biomass and shoot nitrogen accumulation respectively.
And what next? This study was a step towards creating more efficient and drought-resistant corn but it had its limitations: it could not determine how CIPK15 affected corn in drought conditions, so that requires further studies. However, it's great news that the team has managed nitrogen acquisition through manipulating root angles.  Recent advancements in root phenotyping technologies such as imaging-based, high-throughput protocols (where large numbers of samples of field crops can be handled cost and time effectively) allow better pace and reproducibility in measuring root traits. These technologies coupled with the CIPK-focused breeding programs could be used to generate corn varieties better adapted to various stress conditions. Thus, the findings from this research could  benefit millions of people worldwide who consume 45,000+ million corn bushels annually.
---
Were you aware of these corny facts?
Corn - domesticated by the native people who lived in the southern part of present-day Mexico 10,000 years ago, belongs to the grass family (although most people only know it's a cereal crop).
It was introduced to Europe by colonizers, and later it spread to all inhabited continents.
The corn seed is the individual kernel, the ear is part of the flower
Every cob of corn contains even numbers of rows. A 16-row cob of corn is made up of 800 kernels on average.
A lot of currently cultivated corn in the US is genetically modified, engineered to resist insects and droughts.
Mainul has curated 10 research papers with a total evidence score of 4.6 out of 5, saving you 35 hours of reading time.
---
The Science Integrity Check of this 3-min Science Digest was performed by Dr Muhammad Zahid Ilhsan.
---
Subscribe
Join the newsletter to get the latest updates.
---