In 10 seconds? A new study shows COVID-19 vaccines cause no harm to fertility in women and do not reduce the chances of conception.
What's in the study? Scientists analyzed data obtained from over 2000 female participants in a US study to understand the impact of COVID-19 infection and vaccination on their chances of conception based on their menstrual cycle. The COVID-19 vaccines regardless of their type were found not to impact fertility. Women who had been previously infected with COVID-19 also had no reduction in fertility, contrary to men who showed a decline after infection.
Why is this important? Because the pandemic gave rise to some stubborn, baseless theories, among them myths about COVID-19 and infertility. One of them was that vaccines seek to provoke an immune reaction against a spike protein that plays a key role in the human placenta. This debunked theory made some pregnant women reject vaccination, risking severe outcomes (read an earlier Digest here).
Okay, but I heard vaccines can cause changes to the menstrual cycle? Yes, that's true. A separate study showed that vaccinated individuals had an increase of less than one day of menstrual cycle compared to unvaccinated individuals (0.79 days after receiving both vaccines). However, this difference is still under the normal range and there is no significant difference between vaccinated and unvaccinated individuals. In a separate study (not yet peer-reviewed), 20% of women were found to have changes to their menstrual health. However, smoking and being previously infected with COVID-19 were risk factors to the changes observed. Interestingly, women who are using contraceptive pills were less likely to observe any changes post-vaccination.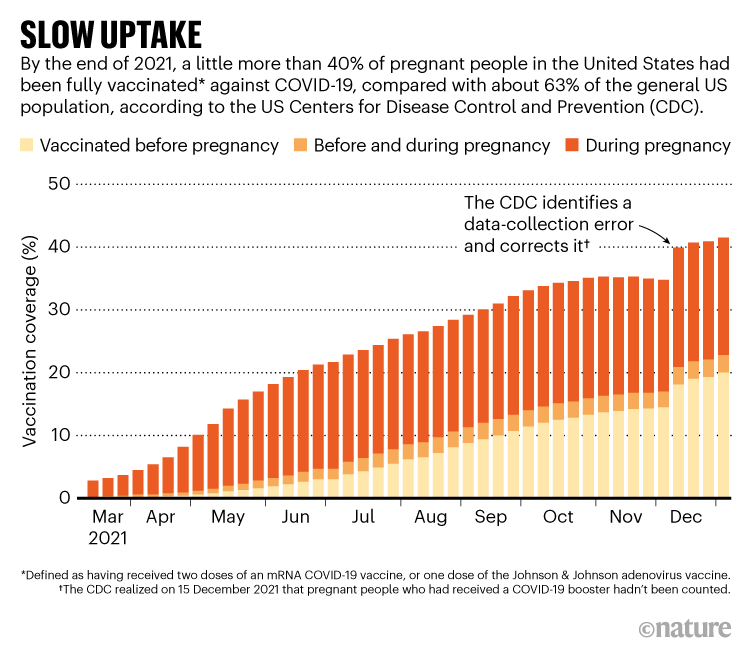 Does pandemic stress cause changes to the menstrual cycle? When analyzing the impact of stress arising from the pandemic on menstrual changes, more than 50% of women reported changes in their menstrual cycle length and 35% on the duration of menstrual bleeding. Women who were experiencing greater stress during the pandemic were also experiencing heavier bleeding compared to those with moderate stress levels. Stress, anxiety, and depression can impair hormonal regulation in our bodies and can cause changes to the menstrual cycle.
Do we know if vaccination during pregnancy affects fetal health? A study analyzing the impact of the Pfizer vaccine on pregnancy found no harm to the fetus. Women who received their vaccination during their second or third trimesters of pregnancy had no difference in the delivery and health of newborns compared to an unvaccinated cohort. The effectiveness of the Pfizer vaccine in pregnant women is also similar to the effectiveness in the general population.
I'm undertaking IVF, would the vaccine affect my chances of getting pregnant? No, a study involving 222 vaccinated individuals who underwent IVF showed no adverse events to the stimulation of eggs or early pregnancy outcomes compared to unvaccinated individuals. These results further support the safety of COVID-19 vaccines in women who are trying to conceive.
---
Researchers identified a new treatment target to boost female fertility
The female reproductive system is complex and involves many different hormones, originating from the brain that acts on various organs and cells.
Researchers identified a new protein, TGFBR3L that binds specifically to another receptor, inhibin B, which promotes follicle-stimulating hormone (FSH) levels and improved fertility outcomes.
FSH is currently used as a treatment to stimulate fertility in women by acting directly on the ovary.
The identification of the new protein opens opportunities for a new treatment target to boost fertility in women.
Santhni has distilled 8 research papers saving you 28 hours of reading time with an evidence score of 3 out of 5
---
The Science Integrity Check of this 3-min Science Digest was performed by Michael Eze.
---
Subscribe
Join the newsletter to get the latest updates.
---